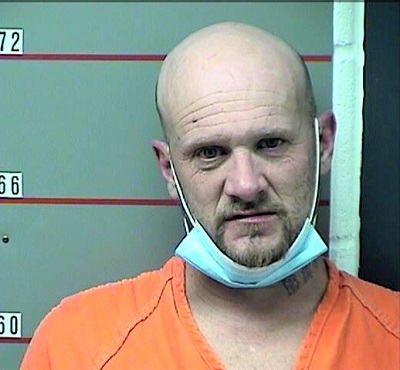 A nearly two hour standoff in Caneyville ended peacefully after the suspect gave up to law enforcement.
The incident began Sunday morning at approximately 3:20 when Grayson County Deputy Jason Luedke was dispatched to the 3200 block of Rabbit Flat Road on a domestic disturbance. The suspect, 46-year-old Jason D. Enfinger, of Caneyville, was accused of assaulting and threatening a family member and was described as "violent."
Enfinger, who barricaded himself in a camper, was in possession of a shotgun and handgun.
Due to the potential volatility of the situation, responding with Luedke were Leitchfield Police Department Sgt. Keith Harrell and Officer Chance Anthony. Responding soon after were Grayson County Chief Deputy Jarrod Mudd and Sgt. Fred Norder.
Upon law enforcement arriving, Enfinger refused to exit the camper, with police negotiating with the suspect. Then, approximately two hours following the arrival of law enforcement, Enfinger surrendered at 5:55 Sunday morning.
He was arrested and charged with fourth-degree assault (domestic violence), third-degree terroristic threatening, intimidating a participant in the legal process, menacing, and second-degree cruelty to animals.
Enfinger was lodged in the Grayson County Detention Center.
By Ken Howlett, News Director
Contact Ken at ken@k105.com