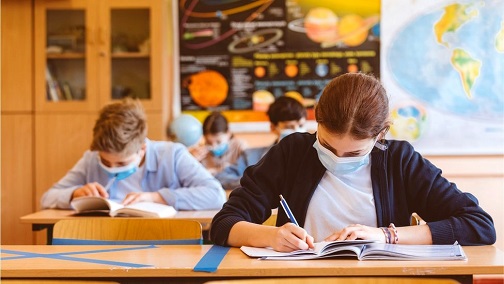 The U.S. Centers for Disease Control and Prevention (CDC) has updated it Health at School guidance regarding protecting students from COVID-19.
The updates have been adopted by the Kentucky Department of Education as well as the Kentucky Department for Public Health (KDPH) and recommend that masked students be distanced three feet apart while in classrooms, down from the previous recommendation of six feet.
Students, though, must continue to maintain a distance of six feet in common areas such as the gyms, cafeterias and auditoriums, as well as while singing and during band and sports activities. Activities that can be moved outside should be, according to the CDC, or to large, well-ventilated areas.
When the county where a school is located is in the "red zone," indicating a critical spread of the virus, the CDC recommends middle and high school students return to six feet spacing.
Grayson County, as of Sunday, was in the "yellow," according to the KDPH, signaling a "community" spread of the virus, and well below the "red zone" threshold.
Another CDC recommendation says that adults should continue to maintain six feet of distance from other adults and students.
By Ken Howlett, News Director
Contact Ken at ken@k105.com