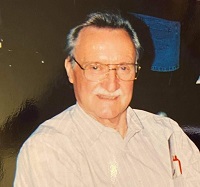 Ferrell Vincent, 86, of Louisville passed away Sunday March 21, 2021 at University Hospital in Louisville.
The Edmonson County native was a CSX Railroad retiree, was a pitcher for the Boston Red Sox AAA Minor League affiliate, a US Army veteran of the Korean War and a lifetime member of the World Wide Church of God. He was a son of the late Albert Polk Vincent and Ethie Mae Bullock Vincent. He was preceded in death by a son, Bryan Vincent.
A celebration of life service will be held at 2:00 PM April 18, 2021 at Gravil Funeral Home.
Surviving are his wife Barbara Jean Vincent; a daughter, Patsy Gwen Black (Arnie) of Sevierville, TN; a son, Greg Vincent (Carol) of Rossville, GA; a brother, Vernon Vincent of Louisville; a daughter-in-law, Kim Vincent; seven grandchildren, Heather White, Jessica Ville, Carrie McClanahan, Missouri McClanahan, Tony Vincent, Aaron Vincent and Amber Vincent; nine great grandchildren; and a great great grandchild.
Expressions of sympathy may take the form of donations to the American Cancer Society.