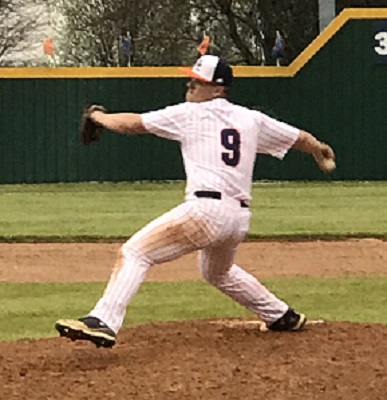 The visiting Elizabethtown Panthers scored seven runs in the final two innings to break open a close game and send them on to an 8-2 victory over the Grayson County Cougars on Tuesday at Don Lee Field.
Senior right-hander Mason Miller started for the Cougars and went 5 1/3 innings and allowed four runs on four hits. He walked three, struck out two and hit four E'town batters in absorbing the loss..
Junior Owen Bratcher relieved in the sixth. He pitched 1 1/3 innings, allowing one run on one hit striking out two and walking one. Junior Landon Haycraft relieved in the seventh and gave up three runs on two hits. He walked one and struck out one.
Sophomore right-hander Austin Jennings started for the Panthers and went 5 1/3 innings, allowing one run on two Cougar hits to pick up the win. He walked one, struck out four and hit a Cougar batter. Senior Anthony Bowen relieved in the sixth and gave up one run on one hit, struck out two and walked three.
The Panthers scratched out a run in the second inning without a hit against Miller. Center-fielder Ryder Gregory walked leading off the inning, stole second base, then moved to third on a ground out. Gregory came in to score on another ground out and the Panthers led 1-0.
The score stayed that way until the top of the sixth, when the Panthers scored three times. Miller hit two batters and gave up a single to load the bases. One run scored on a ground out, and the other two scored on a Jenkins single.
The Cougars got on the board with a run in the sixth to make it 4-1. Second-baseman Gavin Childress was hit by a pitch leading off the inning, stole second and third, then scored when Miller was caught in a run-down between first and second.
The Panthers put the game away with four runs in the seventh. One run scored on a bases-loaded wild pitch. Another run scored on a bloop single to right, then two more came in on a single by second-baseman Jordan Price.
Finally the Cougars put up another run in the bottom of the seventh. Catcher Landen Mattingly reached on a one-out walk and was replaced on the bases by Josh Stevenson, who then stole second base.
Stevenson crossed the plate following a two-out, RBI single by right-fielder Jeren Van Meter to make it 8-2. Van Meter was then thrown out trying to steal second to end the game.
By Don Brown, Local Sports
Reach Don at donbrown@k105.com