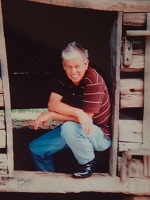 Eugene Hardin, 80, of Brownsville passed away March 31, 2021 at his home.
The Edmonson County native was a truck driver. He was a son of the late James Joel Hardin and Cora Vincent Hardin and the husband of the late Agaline Cook Hardin and the late Joyce Burkhart Lindsey Hardin. He was preceded in death by a son, Bobby Lindsey; a daughter, Penny Reynolds; and two sisters, Mary Magaline Hayes and Icy Dean Clubb.
A public walk-through visitation is scheduled for 10 AM-1 PM Saturday at Gravil Funeral Home. Funeral services are private. Burial will take place in Holly Springs Cemetery.
Surviving are a daughter, Wanda Vincent of Grassland; three sons, Richard Lindsey (Rhonda) of Bowling Green and Joel Hardin and Charles Hardin both of Grassland; three step sons, David W. Lindsey (Tammy), Danie Lindsey (Kelly) and Gary A. Lindsey (Beth) all of Louisville; three step daughters, Belinda Ladd, Sharon Irby (Bruce) and Betty Burkhart (David) all of Louisville; two brothers, Truman Hardin (Carolyn) of Louisville and Dallas Hardin (Maudie) of Grassland; 12 grandchildren; 21 great grandchildren; and many nieces, nephews and cousins.