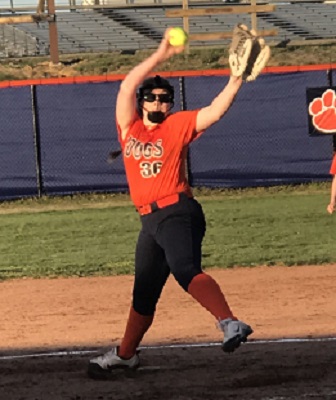 The visiting Edmonson County LadyCats batted around in the third inning, scoring six runs, on their way to a 9-6 victory over the homestanding Grayson County Lady Cougars.
Sophomore Mallory Lindsey started for the Lady Cougars and absorbed the loss after going 2 2/3 innings and allowing all nine runs on six hits. Sophomore Audrey Killion relieved in the third and pitched well for the Lady Cougars. She went 4 1/3 innings, allowing no runs on two hits, walking one and striking out one.
The LadyCats scored three times in the first inning on two hits, a walk and a Lady Cougar error.
The Lady Cougars responded with two runs of their own in the bottom of the first. Shortstop Shelby Davis led off with a home run well over the fence in left-center to make it 3-1.
Catcher Autumn Riggs walked, moved to second on a passed ball and later scored on a two-out double by first-baseman Allie Dotson.
The Lady Cougars scored twice in the second to take a short-lived 4-3 lead. Second-baseman Addie Bratcher walked with one out, then stole second base. Davis walked, then both runners advanced on a wild pitch.
Another wild pitch plated Bratcher before Davis scored on a ground ball to short by Riggs.
In the top of the third, Edmonson County put the game out of reach, sending 10 batters to the plate and scoring six runs. Catcher Mariena Thomas drove in one with a sacrifice fly, and left-fielder Hallie Cassady drove in a pair with a single.
When second-baseman Abbie Slaughter tripled in a run, head coach Ted Hill replaced Lindsey in the circle with Killion, who promptly gave up an RBI, two-out single to right-fielder Kaylee Sanders. Killion then got shortstop Callie Webb to fly out to end the inning. That was it for the LadyCats, but the damage had been done.
The Lady Cougars scored once in the fifth to make it 9-5 but left runners at second and third. Riggs singled leading off and was replaced on the bases by courtesy runner Kassidy Chaffins. Brianna Dennis reached on an error, moving Chaffins up a base.
With one out and two strikes on left-fielder America Jarboe, Hill replaced Jarboe at the plate with freshman Hannah Franklin, who hit the first pitch she saw back up the middle for an RBI single.
In the sixth, with one out, Davis hit the first pitch from Julie Norris far over the left-field fence for her second home run of the day to make it 9-6. Norris then retired the next five batters in a row to end the game.
By Don Brown, Local Sports
Reach Don at donbrown@k105.com