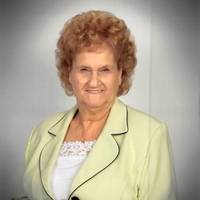 Magdaline "Maggie" Mercer Decker, age 88, of Leitchfield, KY, passed away Thursday, (April 1, 2021) at Owensboro Health Twin Lakes in Leitchfield, KY.
She was born on October 19, 1932 in Grayson County, KY, the daughter of the late Sterling Thomas and Sylvia Meredith Logsdon.
She retired from Phar Shar Manufacturing as a seamstress. Maggie loved to sing and attend church. She enjoyed spending time with her family and grandchildren. She married George Vellas Mercer (the father of her children) on November 6, 1947. George passed away in 2002. Maggie attended Blowtown Church.
She is survived by her children, George Mercer (Rita) of St. Paul, Shirley Penner (Joe) of Leitchfield, Jerry Mercer (Carol) of Leitchfield, Barbara Higdon (Donnie) of Peonia, Darrell Mercer (Shannon) of Louisville and Harold Mercer of Leitchfield; eighteen grandchildren, twenty-two great-grandchildren and nine great-great-grandchildren; two brothers, David Logsdon and James Logsdon; and sister, Imogene Sandlin. Several nieces and nephews and several step-children also survive.
Other than her parents, she was preceded in death by her husbands, George Mercer and Floyd Decker; brother, Harlen Logsdon; and sisters, Betty Saltsman, Wilma VanMeter, Geneva Decker, Mildred Newton and Nora Mae Mercer.
Funeral services will be at 1:00 p.m. Tuesday, (April 6, 2021) at the Dermitt Funeral Home in Leitchfield. Bro. Wayne Clemons will be officiating. Burial will be in the Bill Newton-Blowtown Cemetery.
Visitation will be at the Dermitt Funeral Home from 12:00 p.m. to 8:00 p.m. on Monday and from 9:00 a.m. Tuesday until time of services.
Online condolences can be made in the guestbook on our website at www.dermittfuneralhome.com.