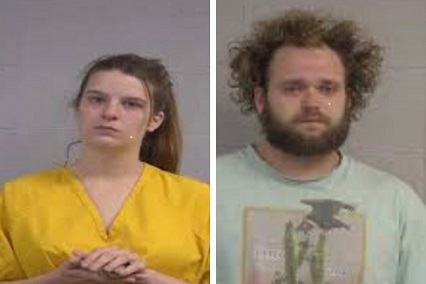 A Louisville couple has been jailed after their nine-day-old baby suffered multiple broken bones.
Police arrested 26-year-old Amanda Yff and 30-year-old Brent Bishop after the couple's baby arrived at Norton Children's Hospital with a broken right humerus, left and right radius, right tibia, and left and right femur, according to multiple media reports.
The baby also had bruising on the head.
Yff told police on Monday that after she fed her newborn, Bishop took the baby into another room for about two hours. Bishop then brought the baby back to Yff, who fed the newborn again before Yff and Bishop fell asleep.
When the couple awoke, the baby was face down on the floor next to the couple's bed.
During a search of the home, police located cocaine, methamphetamine, oxycodone, Adderall and sleeping pills, marijuana and drug trafficking paraphernalia, police said.
Both suspects were charged with multiple drug possession and trafficking counts along with complicity to first-degree child abuse. They are being held in Louisville Metro Corrections on $150,000 bonds.
By Ken Howlett, News Director
Contact Ken @k105.com