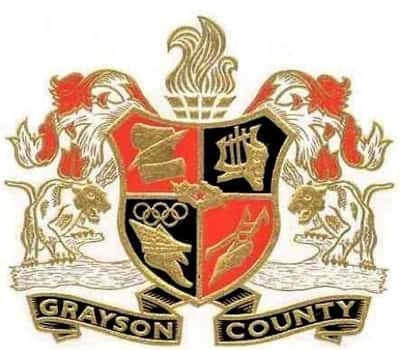 In a special called meeting Tuesday afternoon, the Grayson County Board of Education voted to enact its COVID-19 School Operations Plan.
Included in the plan, Superintendent Doug Robinson said, is a mask mandate for students and staff of Grayson County Schools.
The move was made after the Kentucky General Assembly last week eliminated the mask mandate for schools issued by Gov. Andy Beshear, placing the decision on whether to mandate masking in schools in the hands of local school boards.
The full COVID-19 School Operations Plan will be available in the next 24 to 48 hours, according to school officials.
In a letter (seen below) sent to parents soon after the meeting ended, the district stated in part:
Grayson County Schools will continue to require facial coverings for all students, staff and visitors inside our school buildings unless otherwise exempt (ex: cannot wear a mask due to disability), regardless of vaccination status. This, along with a multi-layered prevention approach, including social distancing, and hand hygiene, follows current guidance from the Kentucky Department of Public Health, CDC and American Academy of Pediatrics. Masks are also required on school buses by public health order of the CDC.  
The school district also released current COVID-19 infection numbers for students and staff:
Of 4,022 students, 80 are currently positive for COVID, with 315 students quarantined.
Of 615 full-time staff, 15 are currently positive for COVID, with 11 quarantined.
The school district has re-instituted its COVID-19 Dashboard, which can be found by clicking here.
Grayson County is of course in the midst of its most serious COVID surge since the beginning of the pandemic, with over 600 new cases diagnosed since September 1. The county's incident rate of 156.8 is one of the highest in the state and the highest in western Kentucky. Furthermore, on Tuesday, the Grayson County Health Department said the agency has reported 14 COVID deaths to state health officials since August 25.
As of late Tuesday afternoon, 96 of Kentucky's 171 school districts (56 percent) have voted to institute a mask mandate, according to the Kentucky School Boards Assoc1ation, with many school boards voting on the matter in the next few days.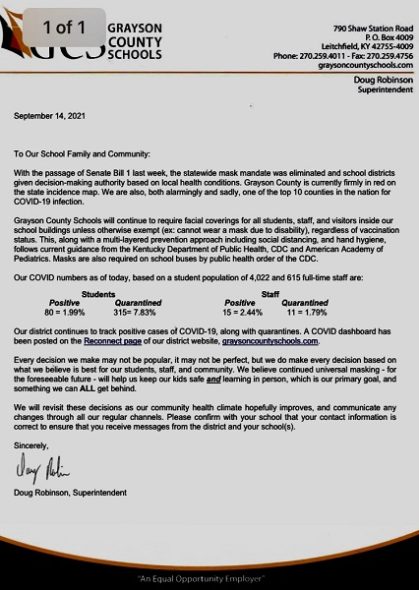 By Ken Howlett, News Director
Contact Ken at ken@k105.com