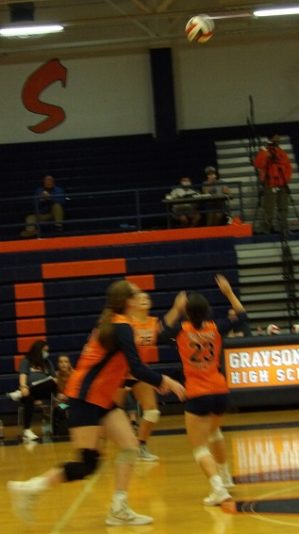 The visiting Whitesville Trinity Lady Raiders came into the Cougar Den on Monday and went home with a relatively easy straight-set victory, (17-25, 17-25, 15-25).
The Lady Cougar volleyball team has fallen on hard times since being in a Covid-induced quarantine, losing nine straight games since coming off quarantine in late August.
The woes would continue at home against Whitesville. The Lady Raiders took an early lead in the first set and held it all the way. Grayson County pulled to within a point of the lead, 11-12, following an ace by freshman Hannah Penner. The Lady Raiders responded with six unanswered points and the Lady Cougars were never closer than five points the rest of the set.
Grayson County led once in the second set, at 2-1. The Lady Raiders steadily pulled away afterward, stretching the lead to as many as 10 points, at 8-18. A Cougar hitting error on set point gave the Raiders the second-set win.
The Lady Cougars led early in the third set 6-1, but the Lady Raiders responded with eight unanswered points to lead 6-9 and Grayson County was never closer than two points the rest of the way. Whitesville led by as many as 12 points, 10-22, before finally winning by 10.
By Don Brown, Local Sports
Reach Don at donbrown@k105.com