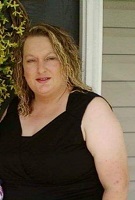 Carla Lee Ashley Davis, 45, of Christiana, TN passed away Oct. 10, 2021 at her home.
The Edmonson County native was an insurance agent and a member of Bee Spring Missionary Baptist Church. She was a daughter of the late Carl Lee Ashley Jr. and Vickie Lashley Ashley of Grassland, who survives.
Visitation will take place 2-7 PM Thursday at Gravil Funeral Home. No other services are scheduled.
Also surviving are a daughter, Breanna Jordan of Christiana; six sisters, Denise Saling (Kevin) of Bee Spring, Sue Ann Pedigo of Grassland, Shawn Gammon (David) of Bowling Green, Samantha Cochran of Washington and Chelsie Snell (Corey) and Carly Lee (J.D.) both of Leitchfield; and a grandmother, Helen Lashley Moore of Grassland.
Expressions of sympathy may take the form of contributions to help with funeral expenses to Gravil Funeral Home, P.O. Box 306, Brownsville, KY 42210.