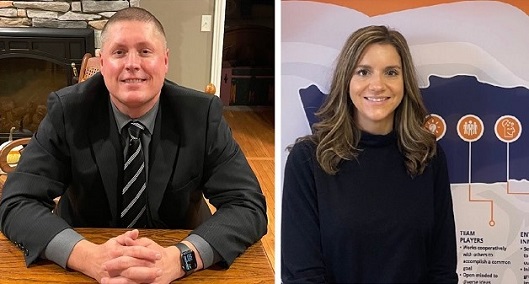 In a major move, Grayson County Schools has announced that Grayson County High School Principal Josh Baldwin has been promoted and an interim high school principal has been selected.
"Grayson County Schools has tapped Josh Baldwin to fill the role of Director of Pupil Personnel (DPP)," school district officials said. "Baldwin, in his fourth year as principal, will complete the current trimester before replacing retiring DPP Sonny Prunty."
GCHS Assistant Principal Lacy Cox has been named interim principal effective January 1.
"While the DPP role is traditionally thought of as mainly attendance and truancy, in reality it covers any student-service related area," officials said. "Baldwin will work with the district wide nursing team and Family Resource Centers. The DPP also heads the school year Calendar Committee, working closely with district staff and community members."
Baldwin calls it "more of a focused position where I can have an impact in specific areas," in contrast to the constantly changing high school arena.
Baldwin said he is excited to work in schools across the district and looks forward to "taking an active role in all schools and working with kids of all ages, building relationships with these families, especially those that have attendance challenges."
"Josh's vision for this position combined with his leadership skills make him an ideal fit for the DPP role," Superintendent Doug Robinson said. "We're excited to welcome him to the district team."
While he's looking forward to his new role, it's still somewhat bittersweet. The past year and a half saw schools across the state and country redefine goals and accomplishments. He noted his immense pride in the GCHS staff and how they've persevered through the past two years, while also making positive strides in academics.
Baldwin said his proud of the school's accomplishments and he's proud of the staff.
"Our English Department's writing scores are the best of anybody's in the area," he said. "Mr. (Matt) Hayes and our CTE staff have helped grow that program ten-fold over the last couple of years and the results we're seeing are just the tip of the iceberg for these students and our community."
"I feel like we've created a great culture here," he added. "I think most people enjoy working here. I think kids generally like to come to school. We've tried to maintain the traditions for them to be part of and feel connected with each other and the overall high school experience. That will continue to be able to grow moving forward."
"You always want to leave a place better than you found it," he said. "Over my time here, one of my main goals has been to try to communicate that it's ok to be flexible through all this and take pride in what we've done."
Cox selected as interim principal
With the announcement that Baldwin will be taking a step up, GCHS Assistant Principal Lacy Cox will step in and fill the interim principal's role on January 1 to complete the 2021-22 school year.
A 2002 GCHS graduate, Cox was always a very involved student who "loved the high school." That pride and enthusiasm carries over into her professional life.
"Lacy is a tremendous asset to Grayson County Schools and to GCHS," Robinson said. "Her creativity and passions for learning and for people make her a perfect fit for this role."
Cox's initial plans included a career using her PR and Advertising degree. Early stints in sales convinced her that she preferred a more hands-on role in helping others. She also wanted to be able to reflect her natural positivity and enthusiasm in her work. With both a sister and her husband's family in education, it seemed like a natural fit.
"With a new degree in middle grades science and social studies, Cox taught briefly at Grayson County Middle School, and was soon teaching freshman science at GCHS," officials said. "During that time, she earned her Master's in Library Science and later a Rank I in Administration, including principal certification along with DPP and Instructional Supervisor."
After four years in the classroom, she became Library Media Specialist for the school, working closely with the administrative team on school wide projects, including culture.
"I'm just a big culture person," she said. "I want the faculty and students to enjoy coming here. If they do, then test scores, readiness, discipline, everything else will pretty much take care of itself."
"I want to be supportive, and I'm going to do whatever is needed," she continued. "I'm not going to ask our staff to do anything I'm not going to do."
She's excited about this initial year of a new district wide curriculum, the "Thoughtful Classroom."
The program is designed to equip staff with strategies to guide students into deeper current learning, while helping them get back on track where needed, and move beyond.
Cox also acknowledges that the traditions of her high school career are just as important to students today.
"It's all part of being open to kids making memories that last," she said, recalling high school as "such an important, positive time in my life. I hope that we can provide that for our students."
By Ken Howlett, News Director and Grayson County Schools