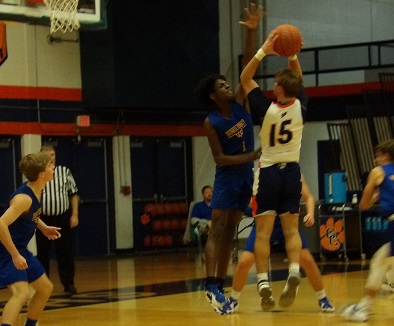 Playing their second scrimmage game of the new season, the Grayson County Cougars defeated the Caldwell County Tigers 65-62 behind Keegan Sharp's 33-point performance.
No running score was kept in the scrimmage, but when the four-quarter scores were added up, the Cougars held a three-point advantage.
Sharp hit five three-pointers on the evening. Caldwell's Jabrion Spikes hit three threes and finished with 25 points for the Tigers.
The first period ended in a 16-16 tie, but the Cougars won the second quarter 17-14. The Cougars took the third quarter 17-15, but the Tigers took the fourth quarter 17-15 on a Spikes three with 20 seconds left.
Hunter Tomes finished with 11 points and six rebounds. River Blanton finished with nine points and led the Cougars on the glass with 10 rebounds. Seventh-grader Jack Logsdon finished with four points and four boards.
Chandler McCrady and Darius Tonge finished with three points each, while Nolan Hornbeck had two to complete the Cougar scoring.
By Don Brown, Local Sports
Reach Don at donbrown@k105.com