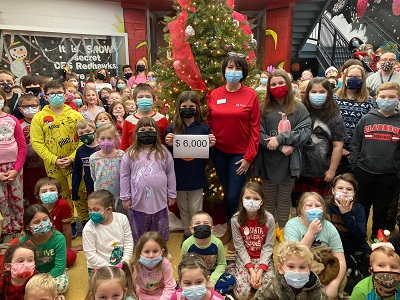 Clarkson Elementary School students recently held a penny drive to raise money for western Kentucky tornado victims.
Following in the footsteps of their parents, many of whom contributed to a toy drive that resulted in the delivery of hundreds of gifts to the youngest tornado victims, the students of Clarkson Elementary came through in a big way for those suffering and in need.
The Redhawk four-day penny drive raised an astonishing $6,001.53, followed by an anonymous $2,500 donation to the drive, raising the total donated to the Red Cross to $8,5001.53.
"I just want to wish a Merry Christmas to all our Redhawk families," Clarkson Principal Shannon Cates exclaimed. "We wrapped up our four-day penny drive with a total of $6,001.53, and then an anonymous donor made a $2,500 donation to bring the total we can give to the Red Cross to a little over $8,500.00. I am beyond proud!"
The money was presented to an appreciative Misty Thomas, Executive Director of the Western Kentucky Red Cross Chapter.
(Photo: Clarkson students surround Red Cross executive Misty Thomas at the check presentation)
By Ken Howlett, News Director
Contact Ken at ken@k105.com