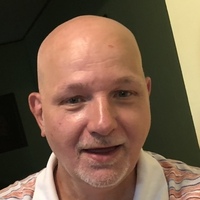 David Ray Elder, 60, of Leitchfield, peacefully passed away with his loved ones by his side on January 1, 2022.  After his glorious meeting with Jesus, He was met by his parents:  Everett J. and Edith Mae Elder.  He was also greeted by his grandparents: John William and Myrtle Embry, His loving Aunts: Eva Elder, Betty Hayes, and Mary Jo Corley, Uncles: Everett Embry, Lee Embry, and several cousins.
David was married to the love of his life, Carla Elder for almost 34 years.  He loved her from the moment he laid eyes on her.  Together they had one daughter, Shawna Means. David's best friend, other than his wife was his daughter.  They were inseparable.  Shawna's husband, Aaron Means, was the son David never had.  He always told Aaron, he prayed for a man like him for his daughter.  David's biggest joys were his two grandchildren: Eden Elizabeth Means and Eli David Means.  He was their Pappy!   He brought so much laughter and love to their lives.  They spent countless trips with him to the library, stores, doctor's offices, parks, and etc.  He spent much time playing with them, but also helping and encouraging them both with their school-work too.
David is survived by two brothers: Steve (Tina) Elder, Darrell (Tina) Elder.  His Mother & Father in-law: Carl and Joyce Eskridge, one brother-in-law: Shawn Eskridge, and one sister-in-law: Becky (Jeff) Thompson, Nieces: Angela Bastin, Sarah Williams, Brittany Elder, Ashley Ralph, Bethani Eskridge, Hope Husson, Emily Thompson, Ella Thompson, Erin-Kate Thompson and Nephews: Greg Elder, and Stephen Eskridge, plus many great nieces and nephews.  He will also be remembered by one Uncle, Buddy Embry one Aunt, Peggy Beasley, and many cousins.
David was born and raised in the small town of Horse Branch, KY.  There he attended and became a member of a family church:  Mt. Olive General Baptist Church.  In David's teenage years, God called him to preach.  After his calling, he became an ordained minister in a General Baptist Association.  David spent many years preaching God's word at churches and revivals over several counties.
On top of preaching, David spent years working at a lumber yard and attending college to become a middle school math teacher until he suffered back, neck, and nerve injuries.  After many doctor's visits and several surgeries David was left with chronic and at times debilitating pain.  He was unable to work in the public but, he faithfully served God and his family each day.
David leaves behind a message of how much God loves us.  No one is promised another day. He would tell you to make sure you are ready to meet God, love and worship God, love and enjoy your family.  He will wait for those he loves by the gates of Heaven.  
Funeral services will be at 2:00 p.m. Sunday, (January, 16, 2022) at the Dermitt Funeral Home in Leitchfield. Bro. David Bastin will be officiating. Burial will be in the Walnut Hill Cemetery.
Visitation will be at the Dermitt Funeral Home from 10:00 a.m. till time of the service.
Online condolences can be made in the guestbook on our website at www.dermittfuneralhome.com.