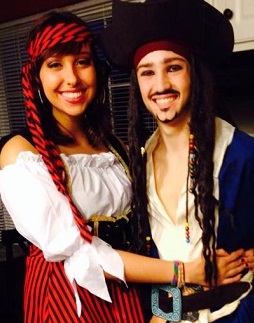 We are all guilty of it. We think there is plenty of time, but there never is. So, we wait until the week before Halloween and then start scrambling to throw together that perfect Halloween costume that is every bit as creative and fun as all of our coworkers'. Well, never fear, Special Kayla is here with 7 Halloween costumes that can be thrown together in a flash. Now you can stop stressing and start enjoying the spookiest of holidays!
Robot:
Wrap up in some aluminum foil, cut up and paint that old Amazon Prime delivery box and get artistic! Don't forget to truly commit to the part by showing off your stellar robotic moves out on the dance floor!
Princess:
Every little girl dreams of becoming a princess and ruling her own country. Throw on your puffiest party dress, heels, and pick up a tiara from your local toy store to truly channel your inner royalty! Don't forget to add the glitter. Princesses always have glitter.
Grapes:
Okay, hear me out of this one. This costume is funny and easy and you will definitely be the talk of the office- in a good way! All you need for this one is a purple t-shirt, purple balloons, and some tape. Blow the balloons up to just the right size and then tape them in a bunch on your shirt. If you're feeling really creative, make yourself a stem out of green construction paper.
Puppy Dog:
Have a howling good time with this easy DIY costume. Create some perky puppy ears using cardboard and a headband and you can use mascara or a washable marker to mimic a sweet puppy face. If you want to make it a litter of fun, join in with some coworkers!
Your Favorite Frappe
This is one of my favorite "thrown together" costumes because it is so creative and it is Pumpkin Spice Season after all. All you need is a brown sweatshirt, the logo of your favorite coffee company, and a paper towel roll as a straw. This sweet treat of a costume is always fun to show off to all your friends.
Hippy
Bell-bottoms and Boho styles are back-in, so you can probably recreate this costume without even leaving your closet. Find your favorite 70s band tee or tie dye shirt (click here to learn how to easily tie dye any shirt), pair it will some bootleg jeans, and add in glitter and the peace sign flower power symbols on your cheeks and there you have it- you have now transformed into one groovy individual!
Sugar Skeleton
This costume encompasses both your sweet and spooky sides. It is easily adaptable to both men and women and would make a great couples' costume. Using washable Halloween paints, change into a beautiful nightmare. Need some help? YouTube has thousands of step-by-step tutorials that can be followed to help you recreate this look all on your own.
The most important thing to remember with each of these costumes is to HAVE FUN and make them your own! Hope these ideas were helpful and have a fun and safe Halloween from all of us here at K105. Until next time!