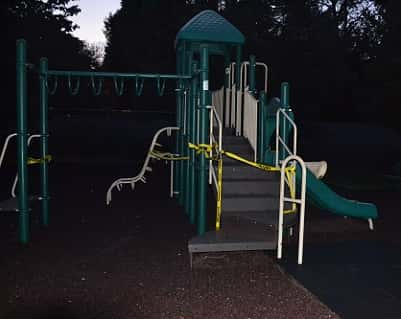 Assistant Parks and Recreation Director Tammee Saltsman and Maintenance Supervisor Chase Watson reported to the Leitchfield City Council on Monday night that several improvements will have to be made at two of the three city parks in order for the parks to be fully operational.
Currently, the jungle gym, swing set and merry-go-round at Dewitt Park are cordoned off with yellow caution tape because of safety concerns. The same is true for both jungle gyms and swing sets at Beville Park.
Beville Park
According to a report recently issued by state inspector Terri Wilkerson, the jungle gym in the front of Beville Park needs to be replaced and the concrete pads removed. The swing set (in the front of the park) has rusted couplings and the rubber in some places is dry rotted.
The jungle gym by the softball fields has missing screws, and the equipment's platform is missing bolts; additional mulch should be placed around the jungle gym. Wilkerson recommends taking down the swing set by the softball fields (and concrete pads removed), due to overall safety concerns because of a lack of clearance.
Watson said it would be "several months" before the play equipment at Beville Park will be operational.
Dewitt Park
Wilkerson's report said that the platform on the jungle gym at Dewitt Park is rusted (Wilkerson recommends the equipment be replaced in the next three years). The concrete pads underneath the jungle gym needs replacing, and loose bolts and brackets with gaps must be tightened.
Additionally, the swing set at Dewitt Park needs to be removed due to safety concerns (landing zones for the swing sets cannot cross), according to Wilkerson's report. Likewise, the merry-go-round also needs to be removed due to it being a "safety hazard."
The pre-school climber must have its concrete pad removed and replaced with mulch. Tree roots must also be removed from the park.
Watson said the Dewitt Park play equipment should be operational in a few weeks.
At Firefighter's Memorial Park, more mulch needs to be spread, and the play equipment needs bolts tightened.
(Photo: Play equipment at Dewitt Park)
By Ken Howlett, News Director
Contact Ken at ken@k105.com or 270-259-6000