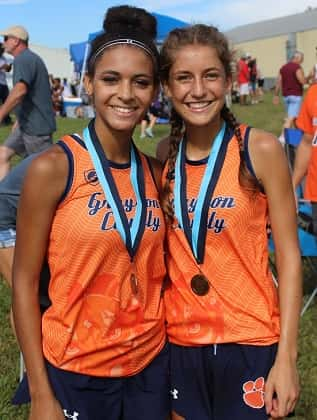 For the third time in the last four cross-country meets, senior Hailey Stallings produced a first-place finish to lead the Lady Cougars to a second-place team finish at the Fairgrounds Frenzy, hosted by Central Hardin at the Hardin County Fairgrounds on Saturday.
With a large field of 18 teams and 155 runners, Stallings finished with a time of 20:43.04 to capture first place. Also earning a medal for a top-10 finish was freshman Ellie Evans, who is also a standout on the Lady Cougar soccer team. Evans finished ninth overall with a time of 22:51.75.
The Cougar men had a good day as well. With 24 teams and 184 runners in the varsity 5K, the Cougars placed eighth overall.
The rest of the Cougar runners had excellent showings as well. The boys middle school runners place fifth of 14 teams and 153 runners. The middle school girls were fourth of seven teams and 98 runners.
Both elementary teams had good finishes. The boys were third of 13 teams and 222 runners, while the girls were fourth of 15 teams and 202 runners.
The Cougars had four runners in the boys JV race and thus did not qualify for a team score. There were no runners in the girls JV race.
Stallings led from start to finish, but Evans had to work hard for her ninth-place finish. Coming into the sharp turn at the bottom of a daunting hill that led up to the finish line, Evans was 14th. She passed no less than five runners on the hill and just edged out Casey County's Jenna Vaughn in 10th place by less than a second.
Also earning points for the Lady Cougars were, senior Kaylee Masden, 34th in 23:47.14, senior Emery Crume, 38th in 23:56.40, and seventh-grader Chloe Darst, 45th in 24:10.43. Finishing out of the points were seventh-grader Kaylee Jessie, 84th in 26:47.04, and freshman Chloe Wilder, 90th in 27:15.82.
Louisville Butler won the team title with 97 points. The Lady Cougars were second with 121 points, while Meade County was third with 128.
Central Hardin's men won the varsity race with 70 points. Louisville Butler was second with 135 and Warren East took third with 150. Grayson County had 222 points in eighth. John Hendricks, of Logan County, was the race winner with a time of 17:17.92.
Sophomore Lucas Gallagher was the first Cougar to cross the finish line, coming in 30th overall with a time of 19:12.07. Eighth-grader Peyton Nash finished 34th in 19:20.05, eighth-grader Jackson Crume was 52nd in 19:54.18, sophomore Jacob Smith was 55th in 19:57.38, and junior Isaac DePoyster was 66th in 20:22.93. Finishing out of the points was sophomore Gabriel Mudd, 95th in 21:15.06.
Meade County won the boys middle school 3K with 69 points, outpacing Johnson Traditional (71), and Farnsley MS (100). Burns finished ahead of the Cougars with 108 points while the Cougars were fifth with 132. Farnsley's Eli Maraman won with a time of 10:35.96.
Paul Overton was the first finisher for the Cougars, coming in 15th with a time of 11:32.87. Houston Brooks was 19th in 11:48.45, Luke Cann was 25th in 12:09.21, Zach Behlke was 36th in 12:37.96, and Sawyer Guffey was 59th in 13:13.05.
Burns won the middle school girls 3K with 36 points, ahead of Meade County (50) and Taylor County(72). The Lady Cougars had 109 points in fourth. Burns' Lucy Spaw won with a time of 11:35.50.
Grayson County had two top-10 finishers with Coray Milam finishing sixth in 13:07.31, and Alexis Henderson finishing ninth in 13:10.23. Others earning points were Riley Pawley, 37th in 15:18.32, Audrey Helm, 70th in 17:50.99, and Emma Dickerson, 97th in 26:10.82.
The JV boys had four runners. Ethan Dean finished 33rd in 22:22.66, Blake Childress was 50th in 24:04.69, John Legawiec was 76th in 28:25.59, and Austin Bohn was 82d in 29:59.48.
The elementary boys had 116 points in their 2K race to finish third behind Locust Grove (54), and Flaherty (66). Cumberland County's Gavin Craft was the individual winner with a time of 7:16.94.
Landon Lourey had a top-10 finish, coming in ninth in 7:50.43. Others earning points were Holland Guffey, 27th in 7:50.43, Ryder Coffey, 31st in 8:31.50, Haylon Dean, 44th in 8:45.86, and Karter Blessitt, 46th in 8:47.9.
The elementary girls were fourth with 124 points, behind team winner Larue County (77), Locust Grove (87), and Burns (107). Larue's Kinley McDowell was the winner with a time of 8:15.05.
Earning points were: Reagan Coffey, 15th in 8:8.33, Reagan Nash, 21st in 9:14.42, Jayden Nugent, 26th in 9:17.30, Lillian Lowrey, 30th in 9:25.49, and Audree Pennington, 39th in 9:33.52.
By Don Brown, Local Sports
Reach Don at donbrown@k105.com