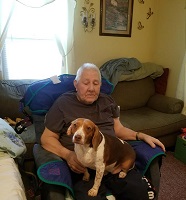 Emmit Thomas "Em Tom" Glass, 80, of Wingfield passed away at 6:33 PM Friday Nov. 16, 2018 at The Medical Center at Bowling Green.
The Edmonson County native was a tree trimmer. He was a son of the late Clarence William Glass and Lettie Leaner Hawks Glass and the husband of the late Betty Rose Bradley Glass. He was preceded in death by a son, Charles Lee Glass; a sister, Lettie Basham; and six brothers, Virgil, Larmie, Fred, Herb, Gordon and John Henry Glass.
Funeral services will be held at 2:00 PM Sunday at Gravil Funeral Home with burial to follow in Wingfield Cemetery. Visitation will begin at 9:30 AM Sunday.
Surviving are a daughter, Judy Glass of Wingfield; a son, Jamie Scott Glass of Wingfield; a sister, Doris Sullivan of Wingfield; four grandchildren, Christy Glass, Katherine Staples (Cris), Ashley Glass and Dustin Glass; five great grandchildren; several nieces and nephews; and his grandfurbaby, Nanny.