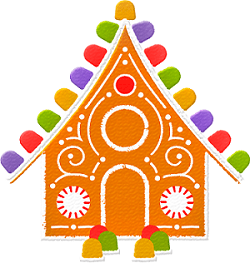 There are just 6 DAYS until Christmas! The Christmas gatherings/parties are happening and the infamous question pops into your head… "What do I bring??" People sometimes have an overload of cookies, so why not mix it up? There are so many yummy and easy way to make a holiday candy. From Candy Cane Hearts to Rolo Pretzel Sandwiches. The options are endless.
Here are just a few of the delicious candies you can whip up this holiday season.
---
Candy Cane Hearts
These adorable 3 ingredient candy cane hearts are a fun and festive treat! A super easy candy cane dessert that's great for party favors, gifts and more.
Ingredients:
24 miniature candy canes
1 cup dark chocolate candy melts or chopped almond bark
1/4 cup holiday sprinkles
Instructions:
1. Arrange the candy canes into 12 hearts on a sheet of parchment paper.
2. Melt the candy melts in the microwave in 30 second increments until melted. Stir until smooth.
3. Pour the candy melts into a piping bag or a plastic bag. Snip the tip off the piping bag or plastic bag.
4. Pipe a dollop of chocolate into each heart. Use a toothpick to spread the chocolate into the point and curves of the heart. Add sprinkles while the chocolate is still wet, work quickly!
5. Let sit until firm, then serve.
Source: DinnerAtTheZoo.com
---

Christmas Crunch
Ingredients:
1/2 cup popping popcorn kernels , or 2 bags tender white popcorn
1 (12 oz) bag Vanilla Candy Melts (such as Wilton Candy Melts)
1 1/3 cups broken pretzel pieces
1 (12 oz) bag green and red Milk Chocolate or Mint M&Ms
Red , green and white Sprinkles (I used Jingle Mix Nonpareils)
Instructions:
1. Pop popcorn in a popcorn popper into a large bowl (or alternately in the microwave if using microwave bags of popcorn) according to manufactures directions. Remove any unpopped popcorn kernels. Toss in broken pretzel pieces and M&Ms.
2. Melt Vanilla Candy Melts in a microwave safe bowl on 50% power in 30 second intervals, stirring after each interval until melted and smooth. Drizzle half of melted chips over popcorn mixture, then stir, tossing gently a few times with a rubber spatula.
3. Then drizzle remaining half of melted chips over popcorn, and gently stir mixture until evenly coated (don't over stir though or your sprinkles wont stick if the white chips begin to set and harden).
4. Pour mixture into a single layer onto wax paper. Sprinkle entire mixture evenly with sprinkles (as many as you'd like) before vanilla chips set. Allow to cool and harden, then gently break into pieces and store in an airtight container.
5. Note: I was able to fill 8 – 9 1/2″x 4″ party treat bags about 2/3 full with this recipe, just to let you know so you have an idea for gift giving.
*These can be found in the cake decorating section of some supermarkets, at craft stores or at specialty kitchen kneads stores.
Source: CookingClassy.com
---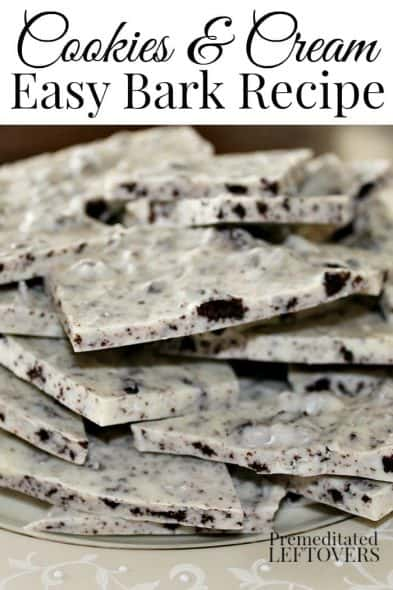 Cookies & Cream Bark
Ingredients:
24 ounces white chocolate (I used chips)
2 tablespoons vegetable shortening (I use Spectrum)
1 cup chocolate cookies crumbs
Directions:
1. Cover a cookie sheet with foil or parchment paper.
2. Stove top Method: Place the white chocolate and shortening in the top pan of a double boiler. Heat while stirring until thoroughly melted. Microwave Method: Melt 12 ounces of white chocolate chips and 1 tablespoon shortening in a microwave safe bowl. Repeat with the remaining white chocolate and shortening.
3. Once the white chocolate is melted stir in the cookie crumbs until just blended. Do not over-stir.
4. Spoon the melted chocolate onto the cookie sheet. Then use a spatula to spread it evenly over the cookie sheet.
5. Let sit for 2 hours to firm up or put it in the freezer for 30 minutes.
6. Break the cookies and cream bark into pieces. Store in a sealed container.
Source: PremeditatedLeftovers.com
---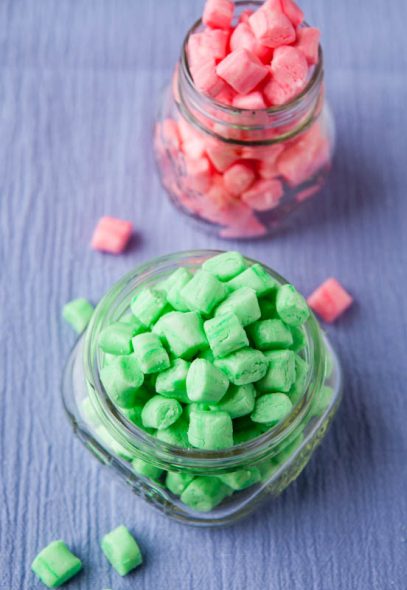 Old-Fashioned Butter Mints
Ingredients:
1/4 cup butter, softened (I used unsalted, but salted may be substituted based on preference)
1/4 teaspoon salt (consider omitting if you used salted butter)
3 1/4 cups confectioners' sugar plus 1/4 cup+, if needed
1/3 cup sweetened condensed milk
1/2 teaspoon peppermint extract*
food coloring, optional
Directions:
To the bowl of stand mixer fitted with the paddle attachment, combine butter and salt and beat for 1 minute on medium-high speed. Add 3 1/4 cups confectioners' sugar, milk, peppermint, and beat on medium-low speed until a dough forms. If the dough seems wet, add additional confectioners' sugar until dough combines (I use 3 1/2 cups sugar). The dough will be crumbly but will come together when pinched and squeezed into a ball.
Taste the batter. If you want a more intense mint flavor, add additional mint extract, to taste.* Be very careful how much mint you add; you cannot un-do this. I repeat, be very, very careful with how much you add. Even 1/8th teaspoon peppermint extract can change flavors, dramatically.
Remove dough from the mixer, separate it into 1 to 4 smaller balls, and add one ball back into the mixer. Add the food coloring of your choice to the ball by squirting the droplets on top of the dough (careful when you turn on the mixer), and paddle on low speed until coloring is well-blended. Coloring will not blend completely into each and every speck of dough if examined extremely closely, but overall, mix until color is uniform. (I separated approximately two-thirds of the dough and made it green using about 15 drops green food coloring and made one-third of the dough red-pink by using about 7 drops red food coloring).
Wash the mixing bowl and the paddle in between each color change and repeat until all the balls are colored. After the dough has been colored, either wrap it with plastic wrap and place it in an airtight container in the refrigerator to be rolled out later or roll it immediately.
Place a golf-ball sized amount of dough in your hands and roll dough into long thin cylinders about 1 centimeter wide. Place cylinders on countertop and with a pizza cutter (or knife – be careful of your counter), slice cylinders into bite-sized pieces, approximately 1 centimeter long. Store mints in an airtight container in the refrigerator where they will keep for many weeks.
Source: AverieCooks.com
---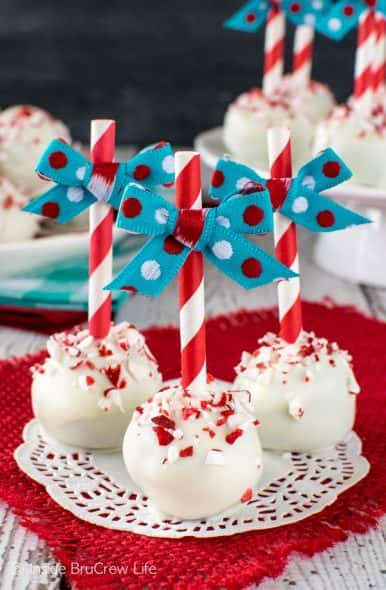 Peppermint Brownie Truffles
Ingredients:
1 – 9×13 box fudge brownie mix
1 – 10 ounce bag white chocolate melting wafers
1/4 cup peppermint candy bits
Instructions:
1. Preheat the oven to 350 degrees. Spray a 9×13 baking pan with nonstick spray.
2. Prepare and bake the brownie mix according to the package directions. The baking time will vary depending on the brand of brownies you use. Do not over bake.
3. Let the brownies cool completely. Cut the hard outside edges of the brownies off, and then cut the rest of the brownies into 35 squares.
4. Press and roll the squares into balls. Add a paper straw to the top of each brownie bite. Place on a wax paper lined tray and freeze for about an hour.
5. Melt the chocolate according to the package directions. Dip the brownie bites in the chocolate and place back on the wax paper lined tray.
6. Sprinkle with peppermint bits immediately. Let set.
Source: InsideBruCrewLife.com
---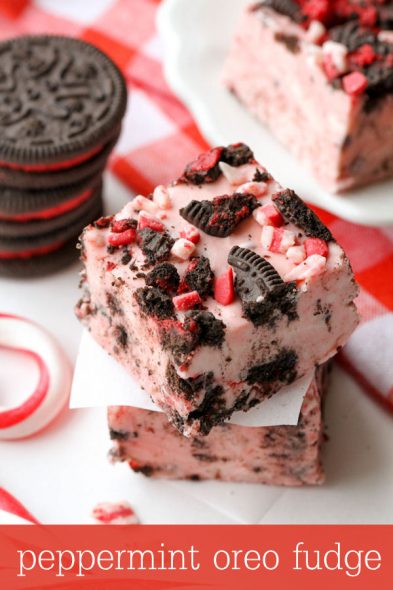 Peppermint Oreo Fudge
Ingredients:
1 cup sugar
1/2 cup heavy cream
1/2 tsp salt
1/2 cup butter
1 bag white chocolate chips
7 oz Marshmallow Fluff
1/2 cup Andes Peppermint Crunch Bits
10-12 Oreos (we used the holiday Oreos with red filling) crushed
Instructions:
1.Begin by putting parchment paper in a 9×9 pan. This keeps the fudge from sticking to the pan.
2. Put the white chocolate chips and marshmallow fluff in a big bowl. Set aside.
3. In a pan melt the sugar, heavy cream, salt and butter on medium heat until it starts to boil. Cook for 5 minutes.
4. Pour the hot stuff into the bowl of chocolate chips and mix with the mixer until it's smooth and soft.
5. Mix (fold) in half of the peppermint Crunch Bits and all the crushed Oreos. Pour into your pan
6. Sprinkle the rest of the peppermint crunch bits on the top. Press down a bit. Put in the fridge for 3-5 hours to let it set. Hope you like it!
Source: LilLuna.com
---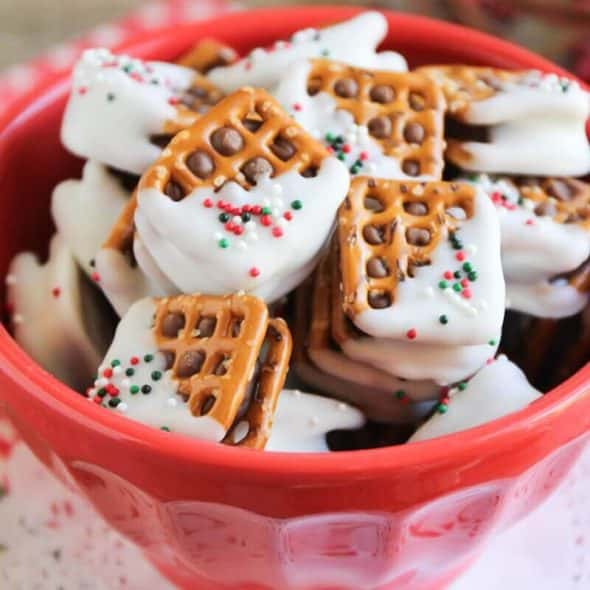 Rolo Pretzel Sandwiches
Ingredients:
50 small square pretzels
25 Rolo's
8 ounces white chocolate (I prefer candy melts or almond bark)
1/4 cup holiday sprinkles (Optional)
Instructions:
1. Preheat the oven to 250°F. Place 25 of the square pretzels on a baking sheet lined with parchment or foil. Place one Rolo candy on top of each pretzel.
2. Place the baking sheet in the preheated oven and bake for 3 minutes, until the Rolo's have softened. Remove from the oven and place a square pretzel on top of each Rolo to form a sandwich (or a M&M or pecan). Let cool completely.
3. If you made a sandwich, add the white chocolate to a microwave safe bowl. Heat for 1 minute at 50% power, then stir. Continue to heat at 30 second intervals, stirring in between, until melted.
4. Dip one half of each pretzel sandwich into the melted chocolate. Allow the excess chocolate to run off, then return to the baking sheet. Sprinkle with holiday sprinkles. Allow to cool completely before serving.
Source: iHeartNapTime.net
---
I hope you enjoy these recipes!
Until next time!