The new year is here. It's time for new goals and new changes. If one of your goals is to find way to organize your home is a stylish way, I have some ideas for you! These are just a few things I found while searching the web, you can look up plenty more ideas that pertain to your exact area of organizing. I have listed the materials needed for each project, click the link for full instructions.
---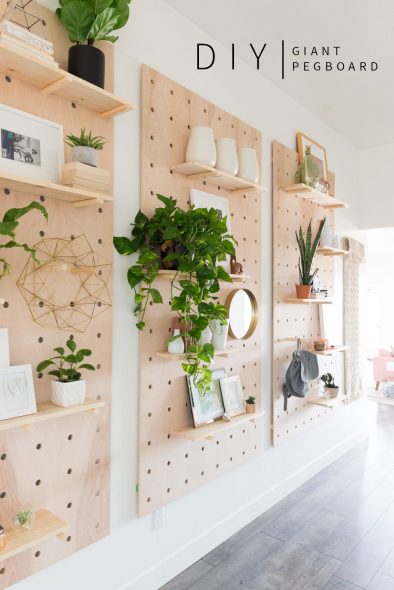 Giant Wooden Pegboard
This peg board wall treatment is perfect for any house!  The wooden pegs are interchangeable you can mix, match, and customize to your hearts content.
To build this project you'll need:
(1) 4'x8'x1/2″ sheet of plywood per panel
(1) 4'x8′ sheet of normal peg board (total)
(4) 1″x2″x3.5′ per panel
1″ wooden dowels
Tools You'll Need:
1″ Forstner Drill Bit
Drill
Nail Gun
Level
Philips Head Screwdriver
Source: VintageRevivals.com
---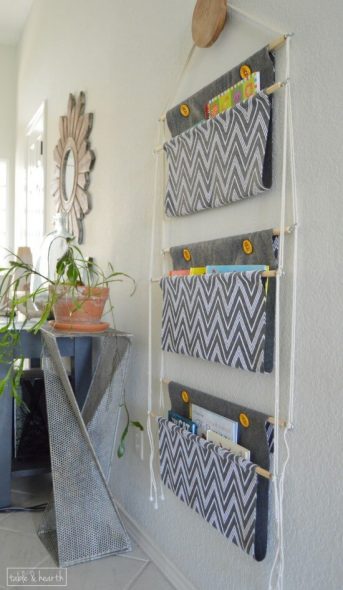 Hanging Book Holder
This is a cute and simple way to store books. It takes up minimal room and would be perfect for a kid's room.
Supplies needed:
(12) screw eyes – I used #8
(6) large buttons
(3) 48″ x 1/2″ wooden dowels – cut in half
cotton rope – I used 1/8″ and found a 45′ package that was plenty
(3) 20″x28″ pieces of fabric – I used a gray felt with a chevron pattern
needle and thread
scissors
disappearing ink pen
drill (not pictured)
fabric glue (not pictured)
ribbon tape
Source: TableAndHearth.com
---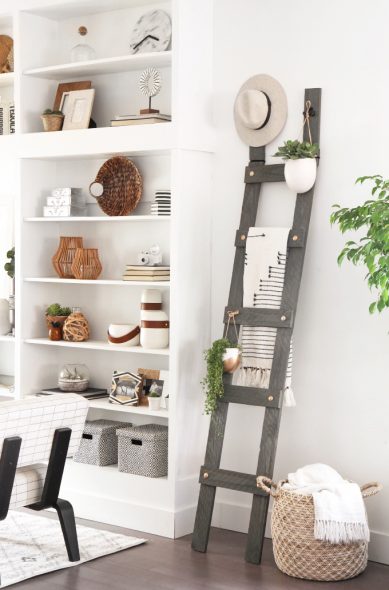 DIY Blanket Ladder
If you love blankets, but are tired of them being thrown around the house, this blanket ladder is a smart way to organize your throws.
What you need:
3 – 1x4x8ft Reclaimed Wood
1 can – Krylon ColorMaster Paint + Primer in Satin Italian Olive
1 can – Krylon ColorMaster Metallic in Gold (Both of spay paints can be found at Ace Hardware)
Screwdriver with 5/8th Spade
2 per rung – 1/2 in. x 13 tpi x 2 in. Stainless Steel Carriage Bolt and Nuts
2 – 4in hinges
Source: iSpyDIY.com
---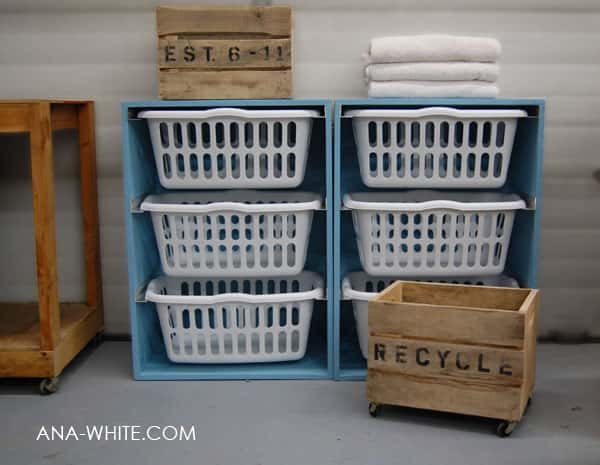 Laundry Basket Dresser
This Laundry Basket Dresser can take your laundry room from the messiest room in your home to the tidiest.
Supplies needed:
3/4″ Plywood cut into 15 1/2″ wide x 8 feet long strips (referred to as 1x16s)
1/4″ Plywood for the backs
1 1/2″ x 1 1/2″ metal angle (ask for it at Blue or Orange)
2″ wood screws or 1 1/4″ pocket hole screws
3/4″ wood screws (to screw the metal angle to the insides of the boxes)
1 1/4″ wood screws
wood glue
wood filler
finishing supplies
Source: Ana-White.com
---
Wall Storage Baskets
This idea is great for small bathroom with zero storage.
Simply take baskets and use some screw anchors and large screws to mount them through the baskets and to the wall. Voila!
Source: MyWeeAbode.com
---
I hope you enjoy these ideas!
Until next time!