Valentines Day is just around the corner! Only 8 days to plan how you are going to woo that special person in your life. What kind of gift do you get? What will they like? Well… You know what they say "the way to a person's heart is through their stomach" and I can personally attest to that! All anyone has to do is bring me some goodies and I'm sold!
Here some simple and cute treats to make for your valentine! <3
---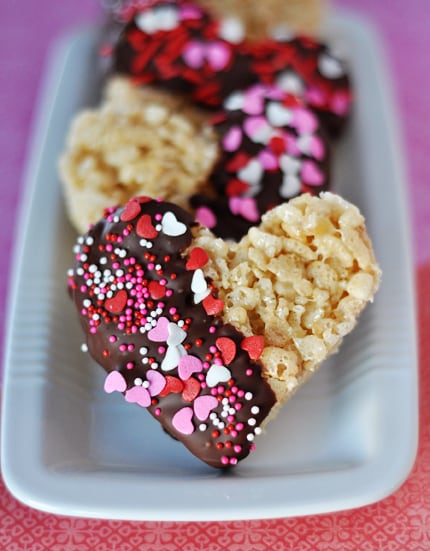 Chocolate Dipped Rice Krispie Treats
Ingredients:
3 tablespoons butter, plus extra for buttering pans
1 (10-ounce) package regular marshmallows or 4 cups miniature marshmallows
6 cups crisp rice cereal
12 ounces semisweet chocolate (baking chocolate or chocolate chips)
Valentine's sprinkles
Instructions:
1) Butter a large (11X17-inch) rimmed baking sheet or two 9X13-inch pans. Set aside.
2) In a large saucepan over medium heat, melt the butter. Add the marshmallows and stir until melted and smooth. Remove from the heat and stir in the rice krispies. Press the mixture into the prepared pan(s) and set aside to cool for about an hour.
3) Using a 2 to 3-inch heart-shaped cookie cutter, press the cutter into the cooled rice krispie treats, removing the heart-shaped treats to a wax paper or parchment paper-lined baking sheet or work space. If you minimize space between the hearts, you should be able to cut out right around 24 hearts. Feel free to do what you like with the extra scraps (we had no trouble coming up with a solution).
4) In a microwave-safe bowl, melt 12 ounces chocolate chips on 50% power for one minute. Stir. Continue this process until the mixture is melted and smooth but not overheated.
5) If desired, push a cookie or lollipop stick into the bottom of the rice krispie treats (optional). Holding one side of the rice krispie heart (or using the stick as a handle), dip half of the rice krispie treat into the melted chocolate and then transfer to the wax paper or parchment paper. I alternated between dipping the top half of the treat or either side of the treat. While the chocolate is still warm on the rice krispie heart, sprinkle the festive Valentine (or other) sprinkles onto the chocolate. Let the treats cool completely and the chocolate harden before serving, about 1-2 hours.
6) Cover in an airtight container to store (they are best eaten within 24 hours).
Source: MelsKitchenCafe.com
---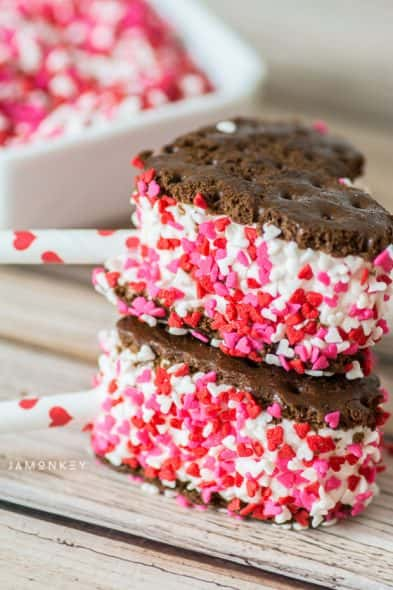 Easy Heart Shaped Ice Cream Sandwiches
Here is what you'll need:
3 inch heart shaped cookie cutter
Square ice cream sandwiches
Long lollipop sticks or cardboard straws
Valentine sprinkles
Instructions:
1. Pour sprinkles in a small bowl
2. Press the cookie cutter into the unwrapped ice cream sandwich.
3. Remove the excess with a knife
4. Dip the edges of the ice cream sandwich in the sprinkles
5. Place on a small cookie sheet
6. Insert lollipop stick/straws into the end of the heart shape
7. Place cookie sheet in freezer for at least 10 minutes before serving
Source: Jamonkey.com
---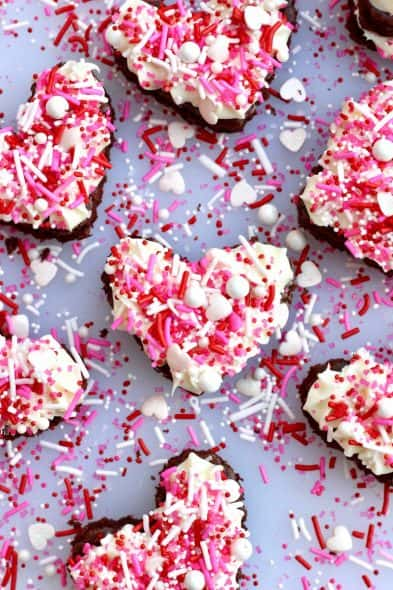 Mini Heart-Shaped Cakes
Ingredients:
1 (15.25 ounce) box Pillsbury Devil's Food cake mix
water, oil & eggs called for on cake mix box
1 (16 ounce) box Pillsbury pre-filled pastry bag frosting (vanilla, cream cheese or chocolate fudge flavored)
1 (5.25 ounce) container Valentine festive sprinkles
mini heart-shaped cookie cutter
Instructions:
1) Preheat oven to 350°F. Spray a 12 x 17-inch baking sheet with non-stick cooking spray and set aside.
2) In a large mixing bowl, prepare cake mix as directed on the box using water, oil and eggs. Spread batter evenly into prepared baking pan. Bake for about 10 minutes or until a toothpick inserted in the center comes out clean, rotating pan halfway through baking time. Let cake cool completely in the pan set on a wire rack, about 30 minutes.
3) Once cake is cooled, use a small heart-shaped cookie cutter to cut and remove about 32 mini hearts from the cake. Set heart cakes on a tray or board you can decorate them on.
4) Decorate each mini cake with the pre-filled pastry bag of frosting. Immediately sprinkle with festive sprinkles.
Source: TheBakerMama.com
---
Big Chocolate M&M Valentine's Day Cookies
Ingredients:
1 Cup salted butter 2 sticks
1 1/4 Cups granulated sugar
2 Large Eggs
1/2 Cup Cocoa Powder
2 1/4 Cups all purpose flour
1/4 Teaspoon salt
1 Teaspoon baking powder
1/2 Teaspoon almond extract
1 Cup semi-sweet chocolate chips
1 Cup M&M's divided
Instructions:
1) Preheat oven to 350 degrees. Line two large baking sheets with parchment paper or a silicone baking mat, and set aside.
2) In bowl of stand mixer, or large bowl using hand mixer, beat together the butter and sugar until light and fluffy 2-3 minutes. Turn mixer to low speed, and add the eggs one at a time. Add the almond extract. Scrape down bowl as needed.
3) Keeping mixer on low, add in the cocoa powder until well blended. Add the flour, salt, and baking powder, mixing just until incorporated.
4) Stir in the chocolate chips, and 1/2 Cup of the M&M's.
5) Divide dough into 12 equal pieces. Roll each piece into a ball, place on prepared baking sheet, and flatten slightly with your hand. Repeat with remaining dough, and top with the extra 1/2 Cup of M&M's as desired.
6) Bake in preheated oven for 13-16 minutes. Allow to cool for 10 minutes on baking sheet before moving to a wire rack to cool completely.
7) Makes 12 large cookies.
Source: TheSaltyMarshmallow.com
---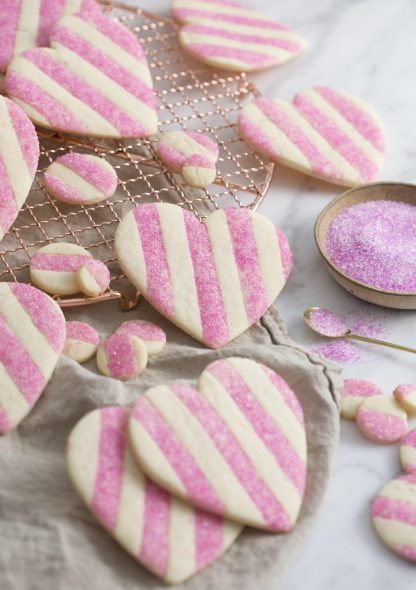 Valentine Cookies
Ingredients:
1 cup unsalted butter 227g, unsalted, room temp
1 cup granulated sugar 234g
2 eggs
4 cups all-purpose flour 500g, sifted
3/4 cup cornstarch 80g, sifted
3/4 teaspoon kosher salt 4g
1 teaspoon vanilla extract 5mL
1/4 cup pink sanding sugar 50g
few drops pink food coloring
Instructions:
Preheat to 375 degrees F.
1. In a standing mixer fitted with a paddle attachment, cream butter, vanilla and granulated sugar together.
2. Sift flour, cornstarch, salt. Whisk until incorporated.
3. Using a kitchen scale, split the 620 gram batch in half, each at 310 grams.
4. Split 450 gram sugar/butter mixture in half, each at 225 grams.
5. Add a few drops of pink food coloring to 1 batch of sugar/butter mixture. Mix until a desired color is reached.
6. Add 1 egg to each sugar/butter mixture.
7. On low, mix in dry mixtures to each batch.
8. Sprinkle ¼ cup pink sanding sugar to one batch. Give a gentle roll to incorporate pink sugar into the dough.
9. Transfer both to plastic.
10. Roll into a disk and chill for about 1 hour.
11. Roll out to a 1/4 inch thickness.
12. Using a ruler and a sharp knife, cut ½ inch strips.
13. Layer pink and white stripes so that they are touching.
14. Roll to create a seal. Transfer to the fridge to chill.
15. Cut cookies with a heart shaped cutter.
16. Place cookies on a baking sheet lined with parchment paper.
17. Bake for 12 minutes then let cool.
Source: PreppyKitchen.com
---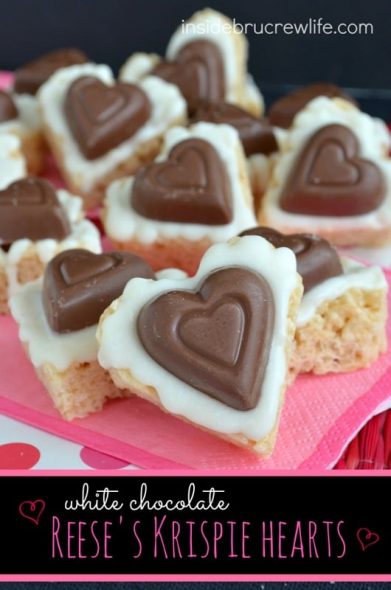 White Chocolate Reese's Krispie Hearts
Ingredients: 
4 Tablespoons butter
1 – 10 ounce bag miniature marshmallows
1 – 3.4 ounce box Jello instant white chocolate pudding
5 cups Rice Krispies cereal
1/4 cup white chocolate melts, melted
15 Reese's peanut butter hearts
Instructions: 
Butter the bottom and sides of a 9×13 pan.
Place the butter and marshmallows in a large saucepan. Heat and stir on medium heat until melted and smooth. Add the pudding and stir for about 1 minute, so the pudding can dissolve. Stir in the cereal.
Pour the cereal mixture firmly and evenly into the prepared pan. Let set about 15 minutes. Use a metal heart cookie cutter to cut out 15 hearts. Let cool completely.
Drizzle the krispie hearts with the melted white chocolate. Press a Reese's heart on top before the chocolate sets. Let set before serving.
Notes: You could also cut the rice krispie treats into squares and top with the melted chocolate and hearts.
Source: Insidebrucrewlife.com
---
Until next time!