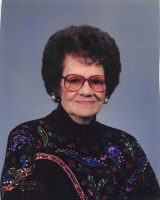 Gertha Lee Dermitt Burnett, age 95, of Elizabethtown, formerly of Leitchfield, KY, passed away Wednesday, (February 20, 2018) at Kensington Center in Elizabethtown, KY.
She was born on April 14, 1923 in Grayson County, KY, the daughter of the late Byron Homer and Marion Green Dermitt.
She was a retired school teacher and formerly owned a restaurant in Clarkson, KY, who enjoyed cooking, baking and spending time with her family, and she was a former member of the Leitchfield Eastern Star and was a member of the Leitchfield United Methodist Church.
She is survived by her daughter, Marilyn Watkins (James Ray) of Leitchfield, her son, Gary Watkins (Linda) of Laguna Beach, CA, her sister, Mercedese Templeman of Leitchfield, her grandchildren, John Watkins, Nicole Silva and Tracy Watkins and several great grandchildren and nieces and nephews.
Other than her parents, she was preceded in death by her husband, Fred Burnett, a son, Gerald Ray Watkins, her brother and sister, Rev. Edward and Margaret Dermitt.
Funeral services will be at 11:00 a.m. Monday, (February 25, 2019) at the Dermitt Funeral Home. Bro. Fred Whitmore will be officiating with burial in the Hopewell Cemetery.
Visitation will be Sunday from 2:30 p.m. to 8:00 p.m. and on Monday from 9:00 a.m. until time of services.
Online condolences can be made in the guestbook on our website at www.dermittfuneralhome.com.