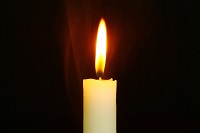 Lona Mae Carroll, 102, of Brownsville passed away at 5:10 PM Wednesday Feb. 20, 2019 at Edmonson Center.
The Edmonson County native was a homemaker and attended Hubsfield Apostolic Church. She was the daughter of the late Willie Russell and Evra Meredith Russell and the wife of the late Sherman Carroll. She was preceded in death by three daughters, Lola Mae Downs (Norman), Shirley Davis and Tammy Lynn Carroll; and a son, Wendell Downs.
Funeral services will be held at 2:00 PM Sunday at Gravil Funeral Home with burial to follow in Hubsfield Cemetery. Visitation will begin at 10:00 AM Sunday.
Surviving are a son-in-law, Larry Davis of Brownsville; 8 grandchildren, Fonda Gail Vincent, John Downs (Anita), Chris Davis (Laura), Rev. Brad Davis (Laura), Tabitha "Dee Dee" Davis, Bryson Davis, Jason Duval, and Tyler Carroll (Katie); 15 great grandchildren; 3 great great grandchildren; and several nieces and nephews.