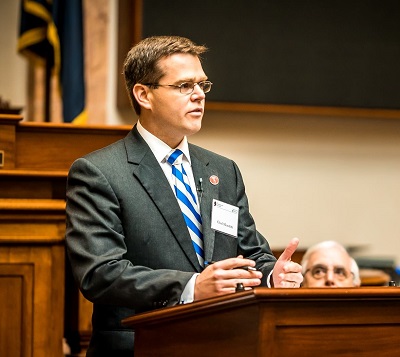 The General Counsel to the governor has announced a restructuring in the Office of the General Counsel, with a Leitchfield native earning a promotion.
Stephen Pitt, General Counsel to Gov. Matt Bevin, said the realignment includes a promotion for former Leitchfield resident Chad Meredith.
Meredith has served as served the Bevin administration as Chief Deputy General Counsel since December 2015, but will assume a new role in the newly created position of Solicitor General within the Office of the General Counsel. Pitt said Meredith will oversee all major appellate work in the Executive Branch of state government, including appeals involving all state cabinets and offices other than constitutionally elected official.
Meredith, the son of state Sen. Steve Meredith, is a 2004 graduate of Washington and Lee University and a 2007 graduate of the University of Kentucky College of Law.
He served as a law clerk for U.S. District Judge Amul Thapar and Judge John Rogers on the U.S. Court of Appeals for the 6th Circuit. Before joining the Bevin administration, he practiced law for six years with Frost Brown Todd, LLC in Louisville, and the Roach & Ransdell law firm in Lexington.
By Ken Howlett, News Director
Contact Ken at ken@k105.com or 270-259-6000