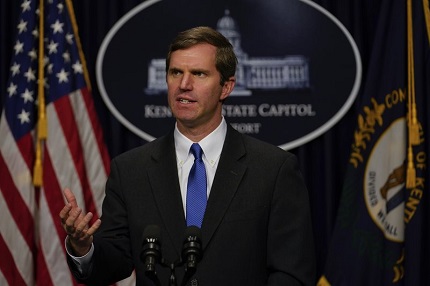 Gov. Andy Beshear reported 275 new cases of coronavirus (COVID-19) were confirmed on Monday, with the unusually low number of new cases owing itself to a technical issue with the state's data processor causing a delay in "some reporting."
"Today's number needs to have a giant asterisk on it, because we know that number is higher and will change," Beshear said.
The new cases increase the state's COVID-19 victim count to 35,254.
The governor said 13 of the new cases are children five-years-old and younger, including five victims less than one-year-old. Over the last 28 days, 420 children in that age group have been diagnosed with the virus (15 per day).
Officials reported two new deaths Monday, raising the total to 775 (2.2 percent fatality rate) Kentuckians lost to the virus.
The deaths reported Monday include a 60-year-old woman from Graves County and a 98-year-old woman from Lincoln County.
The state's positivity rate dropped slightly since Saturday (no positivity rate data was released on Sunday) from 6.02 percent to 5.71 percent on Monday.
Since the beginning of the pandemic, 4,024 (11.4 percent) victims have been hospitalized, with 641 people currently in a hospital. To date, 1,267 (3.6 percent) patients have been treated in ICU, with 155 victims currently in intensive care.
At least 8,738 (24.8 percent) people have recovered from the virus, and 700,417 coronavirus tests have been administered in the state.
Beshear recommends in-person learning be delayed until late September
On Monday, Beshear and administration officials, in consultation with Kentucky teachers and school administrators announced new guidance for the fall semester.
"Our recommendation today is that schools wait to begin in-person classes until Sept. 28," the governor said. "Yes, that's six weeks from now, but it's also six weeks from what I hope is the peak of this virus; six weeks from the last three weeks where we have been at an all-time high week in and week out; six weeks from a time when we just had a 6 percent positivity rate. Let's face it, we're trying really hard and we've taken good steps. Masks are working, but we do not have control over this virus. And to send tens of thousands of our kids back into in-person classes when we don't have control of this virus, it's not the right thing to do for these kids, it's not the right thing to do for their faculty and it's not the right thing to do as governor."
He said the decision was driven by four factors: Kentucky's cases being near a peak; an increase in infection rates among children across the nation; the experience of school districts in other states; and families continuing to travel to hotspots for vacations against the advice of health officials.
"I think what all of the health care specialists said when we talked about reopening, is we need to be looking at a decline," Beshear noted. "In other words, we need to get our positive rate down. On top of that, what we're seeing are more outbreaks and more infections in kids. The two hardest things I do every day is read the deaths and the number of kids infected under five. And it's not just kids under five; we're having record numbers of children that are infected, and it shows this infection spreads to them when we still don't know the long-term impact. What we do know is children have a harder time social distancing. And we can't put a whole bunch of them in a classroom with a teacher right now."
By Ken Howlett, News Director
Contact Ken at ken@k105.com