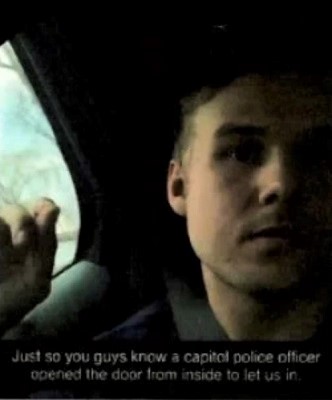 The FBI said on Monday that a McLean County man has been arrested for participating in a breach of the U.S. Capitol building on January 6.
Jordan Revlett, 22, of Island, has been accused of unlawful entry on restricted grounds and violent entry or disorderly conduct on Capitol grounds. He was arrested in Owensboro after the FBI received a tip containing videos and Snapchat screenshots from an account belonging to the suspect.
Revlett said on a Snapchat video that "just so you guys know a capitol police officer opened the door from inside to let us in."
The FBI interviewed Revlett on January 15 where he admitted the video was his. He told the FBI he did not destroy anything or participate in violence.
Revlett is the sixth person with Kentucky connections to be arrested for participating in the riot.
The FBI is seeking information on the insurrection, and tips, photos and videos can be submitted online and tips can be made by phone by calling ‪1-800-CALL-FBI or 1-‪800-225-5324.
(Photo: Screenshot of Jordan Revlett Snapchat post)
By Ken Howlett, News Director
Contact Ken at ken@k105.com