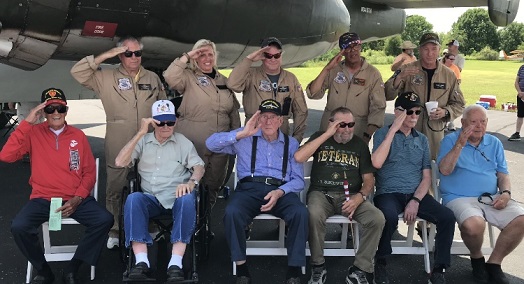 A crowd of over 400 people gathered at the Leitchfield-Grayson County Airport Sunday afternoon as three World War II and two Korean War veterans took an Honor Flight on a B-25 Mitchell Bomber during the last leg of an Honor Flight Barnstorming Tour across Kentucky.
The veterans who were either honored or participated in the flight were:
Stanley Parnell, an infantryman in the 3rd Marine Division, who served in Guam and Iwo Jima, where he was wounded, earning a Purple Heart.
Lewis Simpson, an infantryman with the U.S. Army who served in the Philippines.
Ben Reynolds, of Grayson County, a Navy veteran who served in WW II on the USS Franklin Roosevelt as a fireman.
Glen Goff, a U.S. Army Surveyor who served at Guadalcanal (did not participate in the Honor Flight).
Glenn Otis, a Korean War Veteran who served in the 6th Army Cavalry where he loaded howitzers (a large-ranged weapon referred to outside the U.S. as a cannon)
Bruce Combs, a Platoon Sergeant in the U.S. Army who served twice in both the Korean War and Vietnam War
Making Sunday's Honor Flight possible was the $17,000 donated by the Kentucky Veteran's Trust Fund.
The barnstorming event began Friday in Paducah (where three Honor Flights took place) before the historic aircraft flew to Somerset, Morehead and Frankfort prior to the tour culminating in Leitchfield Sunday afternoon. The pilots for the Honor Flights were Col. Matt Conrad and Col. John Fester.
Officials said the Grayson County crowd was by a wide margin the most people to witness any of the seven honor flights held over the weekend.
An interesting side note, the runway the B-25 Mitchell Bomber lands on needs to be at least 4,000 feet long. The Leitchfield-Grayson County Airport checks in at 4,080 feet, narrowly long enough for the aircraft to land.
When not being utilized in Honor Flights, the B-25 Mitchell, dubbed "Show Me," is stored in a hangar at the Commemorative Air Force Missouri Wing near St. Charles, Missouri, and was built in 1944. The bomber sports 3,400 horsepower and held approximately 3,500 pounds of bombs of multiple denominations.
The B-25 Mitchell was introduced into the U.S. Air Force fleet in 1941 and was named in honor of Major General William Mitchell, a pioneer of U.S. military aviation.
The aircraft gained notoriety in the Doolittle Raid, aka the Tokyo Raid, in April 1942 when 16 B-25s took off un-escorted from an aircraft carrier in the western Pacific Ocean destined for Japan.
The Bluegrass Chapter of Honor Flights will host a free flight to Washington D.C. on October 20. Anyone who knows a veteran who may want to participate is asked to contact Honor Flight Bluegrass via its website at www.HonorFlightBluegrass.org.
(Headline photo: The six veterans recognized with an Honor Flight, along with flight crew and support staff)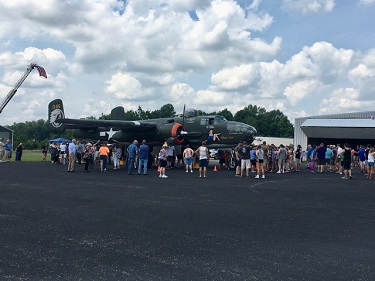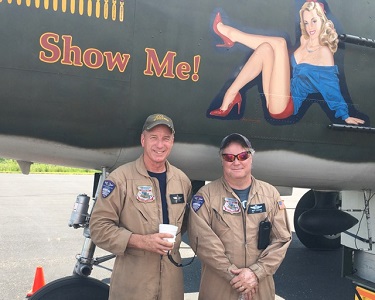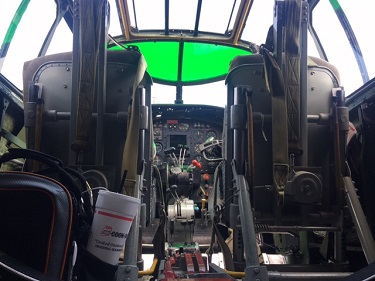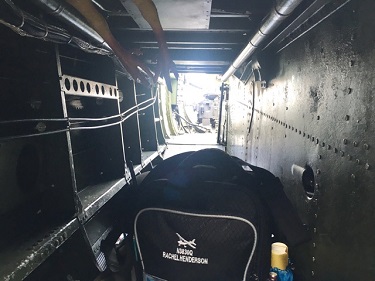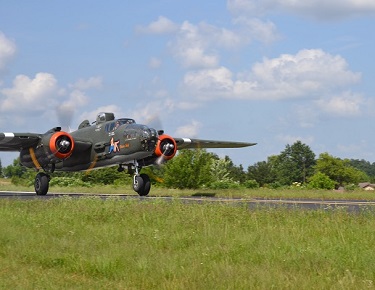 By Ken Howlett, News Director
Contact Ken at ken@k105.com