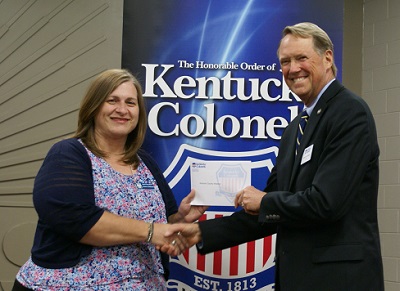 The Grayson County Alliance has received a nearly $3,000 grant to support GCA's Food Pantry.
"Grayson County Alliance is proud to announce we received a $2,712 grant from the Honorable Order of Kentucky Colonels (HOKC) to purchase outdoor corkboard, cardboard box stand, platform trucks, a hand truck and laptop workstation to aid the GCA Food Pantry warehouse and food support services," said GCA Executive Director Debbie Childress, who is also a Kentucky Colonel.
The alliance serves lower income Grayson County families by providing basic food support monthly, free tax filing services, supportive referrals, and educational and informative classes.
GCA has been serving Grayson County for 20 years with a focus of feeding the community, teaching life skills, and empowering family stability.
"GCA is so blessed to have the continued support of HOKC. The Good Works Grant program has helped us make important progress to streamline our services and be more efficient," Childress said.
HOKC will award $2.1 million in grants supporting 275 non-profits, impacting close to 3.7 million Kentuckians, according to Kentucky Colonel officials. Grants are made possible through donations from contributing Kentucky Colonels from throughout the commonwealth and around the world. 
"When HOKC Trustees met with grant applicants this year, we were reminded how hard the pandemic has made life harder for many folks, from first responders in community service charities to the clients themselves," Commanding General Hal Sullivan said. "Thanks to Kentucky Colonels from around the world who donate to the Good Works Program, HOKC can lend a helping hand to so many local charities that provide essential services that lessen the impact. Because a Colonel cares, we make giving to others a proud Kentucky tradition."
Anyone interested in becoming a Kentucky Colonel or nominating someone to become a Kentucky Colonel is asked to contact HOKC National Headquarters at 502-266-6114, or go to www.kycolonels.org.
(Photo: GCA Director Debbie Childress receiving a grant from HOKC Commanding General Hal Sullivan) 

By Ken Howlett, News Director
Contact Ken at ken@k105.com