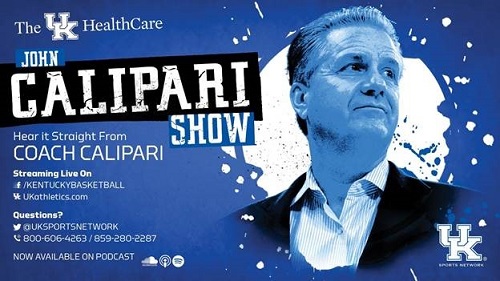 LEXINGTON, Ky. – Kentucky men's basketball head coach John Calipari's weekly radio show, the UK HealthCare John Calipari Show, returns for a 13th season on Tuesday night, live from Lexington.
The UK HealthCare John Calipari Show, which will air weekly on the UK Sports Network, begins Tuesday at 6 p.m. CT, following the conclusion of the UK HealthCare Mark Stoops Show, which begins at 5 p.m. Calipari's show will switch to its normal time at 5 p.m. on Dec. 6, at the conclusion of the football regular season, and last throughout the basketball season.
Hosted by the Voice of the Wildcats, Tom Leach, Calipari will take questions from basketball fans across the country. Fans can call the Clark's Pump-N-Shop phoneline at 1-800-606-GAME (4263) or (859) 280-2287. Calipari will also take questions via Twitter. Fans choosing to go the social media route can tweet their questions to @UKSportsNetwork.
The show is broadcast locally on K105 (104.9), online at UKathletics.com, on the Kentucky men's basketball Facebook page, and through the UK Athletics app.
Fans can also download the show as a podcast through iTunes, Google Play, Sound Cloud, and Spotify by searching "UK Sports Network Radio."
The following is the complete schedule for the 2021-22 season. All times are tentative, listen in central time, and are subject to change.
| | |
| --- | --- |
| Tuesday, Nov. 23 | Stoops: 5-6 p.m., Cal: 6-7 p.m. |
| Tuesday, Nov. 30 | Stoops: 5-6 p.m., Cal: 6-7 p.m. |
| Monday, Dec. 6 | 5-6 p.m. |
| Monday, Dec. 13 | 5-6 p.m. |
| Monday, Dec. 20 | 5-6 p.m. |
| Monday, Dec. 27 | 5-6 p.m. |
| Wednesday, Jan. 5 | 5-6 p.m. |
| Wednesday, Jan. 12 | 5-6 p.m. |
| Monday, Jan. 17 | 5-6 p.m. |
| Monday, Jan. 24 | 5-6 p.m. |
| Monday, Jan. 31 | 5-6 p.m. |
| Wednesday, Feb. 9 | 5-6 p.m. |
| Wednesday, Feb. 16 | 5-6 p.m. |
| Monday, Feb. 21 | 5-6 p.m. |
| Monday, Feb. 28 | 5-6 p.m. |
| Monday, March 7 | 5-6 p.m. |
| Monday, March 14 | 5-6 p.m. |
| Monday, March 21 | 5-6 p.m. |
| Monday, March 28 | 5-6 p.m. |
Release from UK Athletics