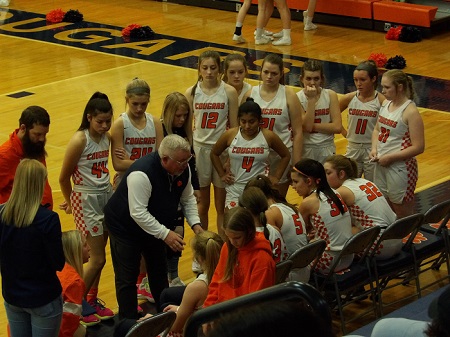 Keegan Sharp hit a running jumper with 2.9 seconds remaining last Friday in the Cougar Den that gave the Grayson County Cougars a 67-65 victory over the visiting Butler County Bears.
That win gave the Cougars a split of their boy/girl double header after the Lady Bears steamrolled the Lady Cougars 45-20 in the opener.
LADY COUGARS VS LADY BEARS
The lead changed hands four times in the game's first two minutes. Butler's Taylor Leach hit a three-pointer at 4:46 that gave the Lady Bears the lead for good. It was the start of a 12-0 Butler County run that saw them take a 15-4 lead with 27 seconds left in the first period.
Butler County led 15-5 at the end of the first period and led 30-14 at the half. Grayson County could manage just six points in the second half
Gracie Cardwell and Jenna Phelps led the Lady Bears in scoring with nine points each.
Sydjey Perkins led the Lady Cougars in scoring with seven points. Isabel Blanton scored four points and Raigan Cave had three. Three players, Sutten VanMeter, Allie Jennings, and Gracie Escue all had two points to complete the Lady Cougar scoring.
COUGARS VS BEARS
After Sharp made his shot with 2.9 second left, the Bears were not done yet. Junior guard Brody Hunt flashed past the half court line and put up a running shot that was dead on target. Unfortunately for Bear fans, the shot was short, clanging off the front of the rim as the final horn sounded.
The Cougars led by a point, 15-14 at the end of the first period, and led by 11, 39-28 at the half.
Grayson County led by as many as 14 points, 44-30 with 5:45 left in the third quarter, but the Bears were able to whittle it down to just five points, 50-45, at the start of the fourth period.
Hunt buried a three-pointer with 1:22 left in the game that tied the score 65-65.
Grayson's River Blanton was whistled for a charge with 11 seconds left, but Butler missed a shot and Blanton rebounded the miss, calling a timeout with 10.2 seconds left. That was just enough time for Sharp to do his heroics and win the game.
Butler County senior Jagger Henderson led all scorers with 27 points, while Hunt finished with 19.
Sharp and Blanton shared high-point honors for the Cougars with 19 apiece, and Blanton made it a double-double night with 10 rebounds. Dillon Horn and Hunter Tomes both finished with seven points, while Chandler McCrady had eight.
Jack Logsdon finished with three points, while Brayden Childress and Owen Bratcher had two each to complete the scoring.
By Don Brown, Local Sports
reach Don at donbrown@k105.com