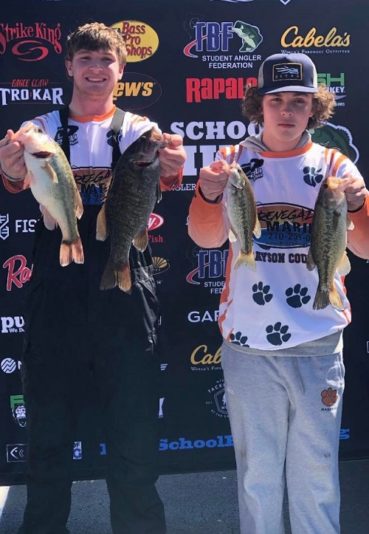 Grayson County High School will send a pair of bass fishers to the SAF Nationals after a strong performance in the state competition on Saturday.
River Blanton and Braeden Sadler tied for 11th place out of 186 total boats at Burnside Island State Park on Lake Cumberland.
The pair now qualified for the national championship that will be held from June 22-25 at McFarland Park in Florence, Alabama.
Dylan Southwood and Kendall Neal from Wayne County won the overall meet with teams from Rockcastle County, Collins, Southwestern, and Paintsville rounding out the top five.
The Cougar bass fishing team will still have the opportunity to compete in the KHSAA region/state championships. The region will be held at Lake Barkley on April 30 and if they qualify the state will be held from May 13-14 at Kentucky Lake.
By Sam Gormley, Play-By-Play Announcer/Local Sports
Reach Sam at sam@k105.com
(Photo Courtesy of GCHS Bass Fishing Team on Facebook)