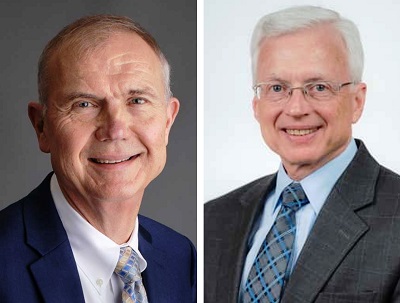 Elizabethtown Community and Technical College (ECTC) announced on Thursday the launch of the ECTC Foundation.
The Foundation, led by key stakeholders throughout the college's 10-county service area, will focus on educating and engaging communities in collaborations that will help ECTC add greater value to the region, school officials said.
Two of the people selected as ECTC Foundation board members are Grayson County residents: Retired Owensboro Health Twin Lakes Medical Center CEO Wayne Meriwether, and Garry D. Watkins, Founder and President of Leitchfield-based Wabuck Development Company, Inc. Additionally, Watkins operates Clayton Watkins Construction.
Foundation board of directors will work to position ECTC as the first choice for education and workforce training and a serve as a driver of regional economic development.
"The ECTC Foundation will be solely focused on furthering the college's mission," said Brandon Fogle, ECTC Foundation board chair and Northern Region President, South Central Bank. "As the college has grown, so have the opportunities for community engagement. The Foundation will help the college develop relationships and resources that allow us to make an even greater impact in the lives of ECTC students for many years to come."
Donations to the Foundation were announced, as well, and include the establishment of a $4,000 Kruger Packaging Scholarship fund at ECTC; a $10,000 gift to the ECTC University Center by the city of Elizabethtown; and a $100,000 pledge by Nucor Brandenburg.
Nucor's investment will be used to meet the greatest needs of the college, and includes $25,000 to support tuition for transitioning soldiers in ECTC's Advanced Manufacturing Career Skills Program.
Plans for the Foundation began four years ago and will build on the legacy of partners like North Central Education Foundation and Central Kentucky Community Foundation that have paved the way for ECTC to become what it is today, said ECTC Foundation Executive Director Megan Stith.
Other board members of the ECTC Foundation include:
Mike Burress, Lincoln Trail Area Development District; Dr. John DuPlessis, DuPlessis Orthodontics; Brandon Fogle, South Central Bank; Marilyn Ford, WesBanco; Cynthia Griffin, Burnett & Griffin, PLLC; Linda Howard, Retired, ECTC; Selena Hudson, Mutual of Omaha Mortgage; Dustin Humphrey, Skeeters, Bennett, Wilson, and Humphrey; Dennis Johnson, Baptist Health Hardin; Keith Johnson, Robbins Enterprises; Brian Kerr, Kerr Workplace Solutions; Ben LaRue, Owen LaRue Financial Group; Greg Lee, Nolin RECC; Brooklyn Leep, Marion County Industrial Foundation; Timmy Morris, Southeast DME; Carrie Pride, The Kentucky Standard; Brian Robinson, Nucor; Jennifer Scarbrough, Swope Family of Dealerships; Kevin Smith, Beam Suntory; Jason Waters, ARGI; Allison Willoughby, Brandenburg Telecom; Hanna Yun, Korean American Association of Kentuckiana; Dr. John Yun, Heartland ENT and Allergy; Dr. Juston Pate, ECTC; and Megan Stith, ECTC.
For more information, visit ectcforbetterlives.com.
(Photo l-r: Garry D. Watkins, Wayne Meriwether)
By Ken Howlett, News Director
Contact Ken at ken@k105.com