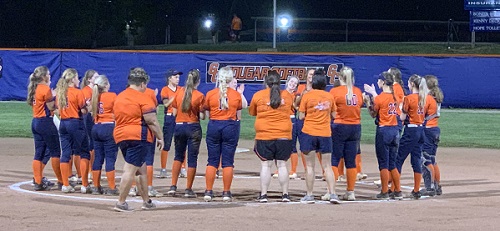 The Lady Cougar softball team took no prisoners on Thursday at the Lady Cougar Softball Field as they defeated the visiting Warren Central Lady Dragons twice, in three innings each time, 18-0 and 23-3.
In the first game, Ella Gibson drove in two runs in the five-run first inning, then Bailey Yaden drove in a pair in the 13-run second inning with a two-out single.
Meanwhile, starting pitcher Mallory Lindsey was cruising through the Lady Dragon lineup.  She gave up four hits in her three innings of work, walked no one, and struck out two.
In the second game, Shelby Davis went 3-for-3 with two singles and a double and drove in three runs. Ella Narvaez went 2-for-2 with two runs driven in, while Isabel Blanton drove in a pair with a one-out single.
The 23 runs the Lady Cougars scored were the most since May of 2002.
The Lady Cougars sent 16 batters to the plate in the second inning and scored 13 times.
Audrey Killion gave up three runs after two were out in the top of the third when Amparo DeJesus doubled with the bases loaded. She then struck out Martisha Rodriguez to end the game.
By Don Brown, Local Sports
Reach Don at donbrown@k105.com