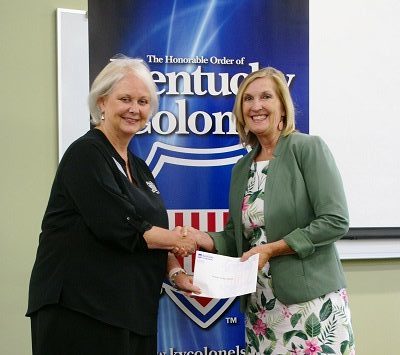 Grayson County Alliance (GCA) has received a Good Works Grant from the Honorable Order of Kentucky Colonels (HOKC).
The grant, in the amount of $4,042, will be used to purchase security and communications items for the GCA Food Pantry, according to GCA Executive Director Debbie Childress.
"The HOKC Good Works program is making a huge impact in Grayson County," Childress said. "It is our privilege to use these dollars to strengthen our agency as we work to overcome the economic hardships we are all facing."
GCA provides food and multiple services to low income Grayson County residents as well as families in crisis. The GCA Food Pantry offers "basic food support" via USDA Commodities in addition to donated and purchased food products.
HOKC will award over $3 million in grants supporting 314 non-profits, impacting more than 3.9 million Kentuckians, officials said.
Grants are made possible through donations from contributing Kentucky Colonels "who choose to exercise the honor of being selected a Kentucky Colonel in a meaningful way," according to HOKC officials.
"The year 2021 and early 2022 were challenging and the Kentucky Colonels stepped up to the challenges," HOKC Commanding General Gary Boschert said. "Through extremely generous individuals we were able to increase our regular grant impact for the Good Works Program by over $1 million.This year we are awarding $3.1 million dollars, the most money we have ever been able to spend on the program. Thank you, Colonels, for your generosity and continued support. Your help allows all the trustees to help impact millions of Kentuckians."
(Photo l-r: HOKC Executive Director Sherry Crose, GCA Board Member, Stacy Bibelhauser)
By Ken Howlett, News Director
Contact Ken at ken@k105.com