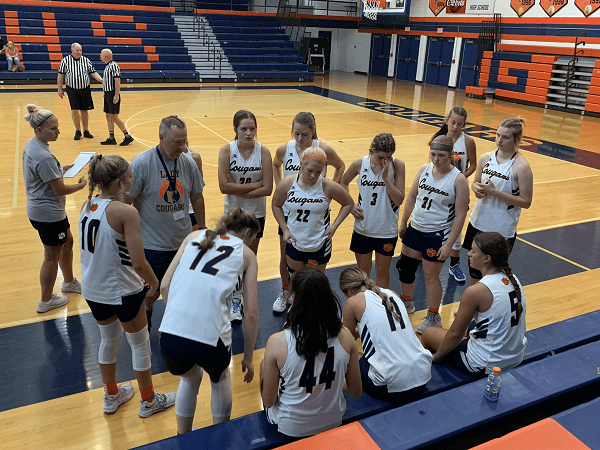 The Grayson County Lady Cougar basketball team fell to Metcalfe County 54-35 in summer action on Tuesday afternoon.
The Lady Cougars were led in scoring by rising junior Sydney Perkins with 15 points while rising senior Aryssa Riggs also finished in double figures with 11.
Metcalfe County struck first in the contest jumping out to an early 6-0 lead, but Perkins made a pair of free throws and a deep three-pointer to bring the game to within one.
From there, it was all Lady Hornets and their rising sophomore phenom Kassady London. The stretch forward finished with a game-high 27 points including five three-pointers. She also was perfect from the charity stripe.
Grayson County was down by 17 points at the half with head coach Todd Johnston getting on his team to lock in more defensively.
The second half was overall much stronger for the Orange and Blue. They held Metcalfe County, who last season lost in the 4th Region semifinals, to only 20 second-half points.
In the half, seventh-grader Breigh Jones set a picture-perfect screen to free Perkins in the corner for a wide-open three with just over 11:00 to go. Another highlight saw sophomore point guard Sutten VanMeter find Isabel Blanton who knocked down the open tray.
Apart from Perkins and Riggs, Blanton finished with five points and VanMeter added a three-pointer in the first half to pace GCHS.
The Lady Cougars will return to the court on Tuesday evening against Muhlenberg County at 5:00 pm. They will travel to Barren County on Thursday before closing summer play on Friday afternoon at Metcalfe County.
By Sam Gormley, Play-By-Play Announcer/Local Sports
Reach Sam at sam@k105.com