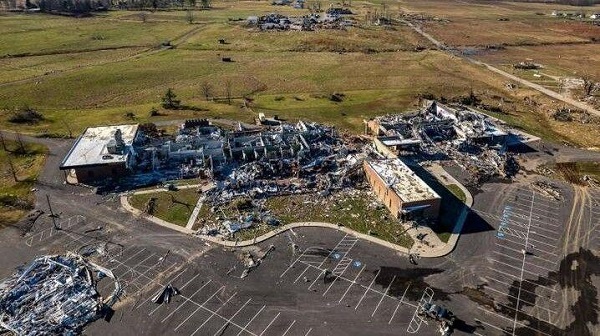 As part of a record $5.6 billion budget, the University of Kentucky Board of Trustees has approved $38 million to rebuild the main building at UK's Research and Education Center in Princeton, which received extensive damage during the December tornado outbreak.
The rebuilding project will be funded from insurance reimbursement for building replacement costs and with state and federal funds and gifts for additional storm cleanup and related projects.
In addition to the main building, the tornado destroyed many other buildings and barns. Plans also call for rebuilding many of these structures for student housing, storage facilities, equipment sheds, and other needs. Officials expect construction on some barns and equipment storage to get underway later this year. Temporary office space and labs will be brought on site in the coming weeks, as faculty and staff continue to do their work. Research projects, educational field days, and other activities continue to take place although at times in alternate locations or with borrowed equipment.
The center was established in 1925 on nearly 1,300 acres about one mile from downtown Princeton.  In 1980, the Rottgering-Kuegel Agricultural and Extension Building was added and housed the center's nearly 50 staff and hosted countless extension and area meetings. That facility underwent a major renovation and addition to house the UK Grain and Forage Center of Excellence, which opened in 2019, expanding to nearly 1,600 acres overall.
"We understand how important faculty and staff at the UK Research and Education Center and Cooperative Extension Service are to conducting research and relaying educational information to our communities," said UK President Eli Capilouto. "Getting this facility rebuilt is one step forward in our commitment to helping the area recover and emerge stronger than before."
UK officials say they expect the facility design to be ready later this year and hope to complete the work in time to celebrate the center's 100th birthday in 2025.
"We have an amazing, dedicated and resilient group of people working at the research center to serve our stakeholders," said Nancy Cox, dean of the UK College of Agriculture, Food and Environment. "This center's people have dedicated nearly 100 years to supporting the agricultural economy of Kentucky.  Their efforts during this time are truly inspirational. We are excited to get this facility back up and supporting the state's farm sector."
By: Kentucky Today