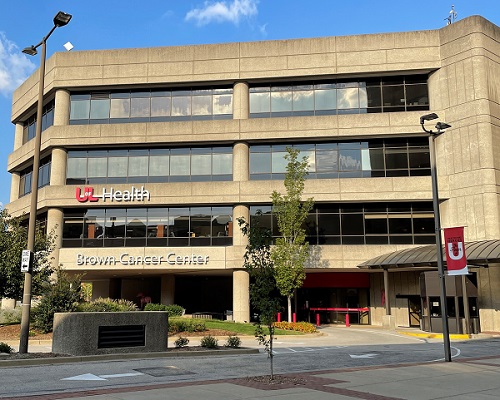 More individuals will have access to new treatments for cancer at UofL Health– Brown Cancer Center thanks to a new gift from the Gibbs Foundation, Inc., supporting immunotherapy clinical trials.
The foundation is donating $1.5 million to the University of Louisville over three years to fund additional research staff and faculty time dedicated to clinical trials, increasing capacity for trial participants in the tumor-infiltrating lymphocytes program, or TILs.
"We are so very grateful to the Gibbs Foundation for this gift," said UofL interim President Lori Gonzales.  "By allowing the Brown Cancer Center to expand this clinical trial and treat more patients with this innovative therapy, it provides hope for more families who are battling cancer and advances these therapies, potentially benefitting even more cancer patients and families."
In clinical trials at the Brown Cancer Center, TILs have been shown to be effective in treating advanced melanoma patients, for whom the median survival is only eight months.  The treatment involves removing one of a patient's own tumors, preserving, activating and expanding immune cells from the tumor, then administering these immune cells into the patient.  As a result of its success in melanoma patients, the Brown Cancer Center is expanding the TILs program to test the therapy for the treatment of other cancers.
TILs patients face a long wait time due to the complex and time-consuming nature of the therapy and demands on clinical research staff.  UofL says the gift will allow them to hire additional nurses and coordinators and dedicate more of the oncologists' research time to support TILs, a complex inpatient procedure, and is expected to mean treatment of at least 25 additional patients.
UofL says cancer remains one of the most difficult and deadly challenges in health care, killing more than 600,000 people each year in the U.S. and nearly 10 million worldwide.  Kentuckians are affected at a higher rate than any other state.
"My goal is to help make cancer something that people one day study in history classes instead of medical schools, and I truly believe we are getting closer to that day," said Jason Chesney, chief of the UofL Division of Medical Oncology and Hematology and director of the Brown Cancer Center.  "This gift allows us to increase the number of patients and advance this lifesaving technology."
The Brown Cancer Center serves more than 26,000 cancer patients every year.