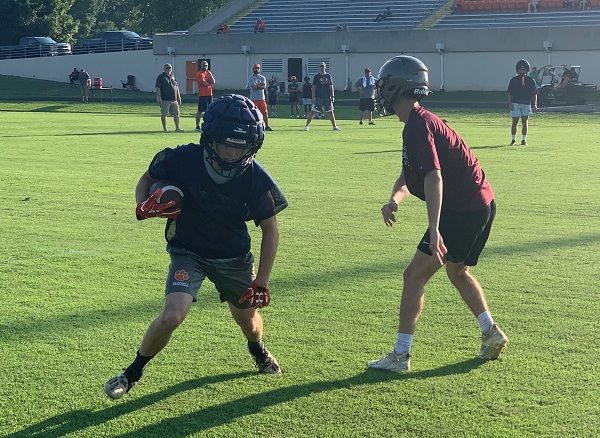 The Grayson County football team closed the 7-on-7 portion of the preseason with a strong performance at Hart County on Thursday evening.
The Cougars picked up dominating wins against Hart County "2" and Breckinridge County while wrapping up the night with a tie against Hart County "1."
In other action, they also won the lineman competition which features events like weight lifting, tire flipping, and other team-based activities.
"I thought the first couple of games, we probably came out more focused, more intense, and more locked in than we have in some of our others," head coach Bryan Jones said. "I think it showed. There was something different about us and how we played and how we took the field."
Hart County "2" 
Game one for the Cougars saw the offense roll over Hart County.
Senior quarterback Hunter Felty had only one incomplete pass over his two drives. He went 6/7 with a pair of touchdowns to Greyson Chaffins and Michael Wood.
Grayson County strikes first against Hart County's B team on a touchdown pass from Hunter Felty to Greyson Chaffins. pic.twitter.com/Y4n1IZTAsN

— Cougar Sports on K105 (@K105sports) July 21, 2022
The defense bent, but did not break as Conrad Raymond and Kenton Cornwell each broke up fourth-down passes to hold the Raiders out of the endzone.
Grayson County checked in their backup players for the last two drives with the Raiders taking advantage of their final possession with an eight-play drive ending in a touchdown. The Cougars would still hang on for a 12-6 win.
Breckinridge County
In game two of the evening in Munfordville, it was all Grayson County as they took down district rival Breckinridge County 24-0.
After an incompletion on the game's first play, Hunter Felty would complete the following five passes. Two were touchdowns to Jeren VanMeter with one five yards out and another on a 40-yard bomb.
Jeren VanMeter pulls in the five yard touchdown and Grayson leads Breck 6-0 early. pic.twitter.com/TDOHBSFHud

— Cougar Sports on K105 (@K105sports) July 21, 2022
Defensively, it was the Greyson Chaffins show. The Tigers would complete two of their first three passes, but Chaffins would intercept three of the next four to pace the Cougars.
"He's just got kind of a nose for the ball and that showed last year as a freshman," Jones said about Chaffins. "He had some really nice catches for us, but three picks is a heck of a 7-on-7 game because that time goes by quick."
The offense continued to roll with Michael Wood and Jackson Kane catching touchdowns to give us the final score of 24-0.
Hart County "1"
A close game was in store for the nightcap. The Raiders would strike first after turning in an eight-play drive to take a 6-0 lead. The highlight of that possession for Hart was a conversion on 4th and 17.
Grayson County would have an answer. Felty would lead them down the field with a pair of completions to Wood and another to VanMeter before finding Jadon Kinney in the corner of the endzone to tie the game up.
Jayden Kinney pulls in a 15 yard touchdown pass and Grayson ties Hart 6-6. pic.twitter.com/PiWbCeEigd

— Cougar Sports on K105 (@K105sports) July 22, 2022
Jones mentioned that both of these scenarios for touchdowns fit into the "unrealistic" football.
"You're on the seven-yard line and (Hart) is dropping eight into coverage," he said. "We are running the ball number one and two they're not dropping eight into coverage on the seven."
Hart County would score another touchdown during the JV portion of the game, but the score would remain 6-6 with both teams' varsity on the field.
---
The games on Thursday concluded the 7-on-7 portion of the preseason for Grayson County. They now will turn their attention towards scrimmages against Hancock County and Hopkins County Central next month.
"We still got a long way to go as far as conditioning I think," Jones said about the lead-up to those scrimmages. "This hot weather zaps it out of you quickly so we've got to get more accustomed to being in these conditions because the first part of the season can be brutal."
Grayson County will officially open the 2022 regular season on August 19 at home against Edmonson County.
By Sam Gormley, Play-By-Play Announcer/Local Sports
Reach Sam at sam@k105.com