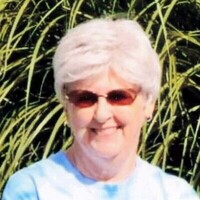 Ella Jane Bland, age 83, of Leitchfield, KY, passed away Monday, (September 19, 2022) at her home.
She was born on May 10, 1939 in Grayson County, KY, the daughter of the late Clarence and Effie Clark Bruner.
She was a seamstress and a farmer who enjoyed quilting, vegetable and flower gardening, mowing her yard. She was a member of Mount Hebron Church.
She is survived by her son, Donald Bland, a daughter Janice Powell (Dale), both of Leitchfield, an honorary daughter, Jewell Conklin (Eric) of Atlanta, Georgia; four grandchildren, Wes Bland, Shannon Aebersold (Arron), Rebecca Powell & Samantha; eight great-grandchildren, Cameron, Autumn, Bryce, Faith-Ann, Landon, Jaina, Yona & Soheila; and two brothers, Ray Bruner of Louisville, KY & John Bruner (Mary) of New Albany, Indiana. Several nieces and nephews also survive.
Other than her parents, she was preceded in death by her husband, James Bland; two brothers, Hevard & Marion Bruner; and two sisters, Mae Davis & Elizabeth Bruner.
Funeral services will be at 3:00 p.m. Saturday, (September 24, 2022) at the Dermitt Funeral Home in Leitchfield. Bro. Jimmy Douthitt will be officiating. Burial will be in the Holly Church Cemetery.
Visitation will be at the Dermitt Funeral Home from 10:00 a.m. Saturday until time of services.