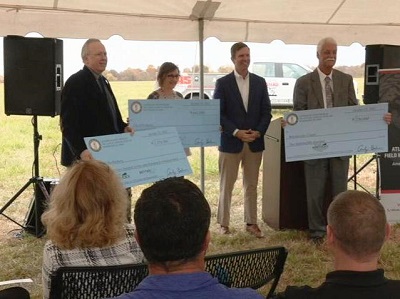 Breckinridge County and two cities in the county received a combined $2 million on Tuesday for improved water access and paving of nearly nine miles of roadways. Ceremonial checks were presented to county and city leaders by Gov. Andy Beshear.
The city of Hardinsburg received $1,379,590 to extend waterlines to approximately 150 unserved households, Beshear's office said. These homes currently rely on either hauled water or groundwater wells, which can be unreliable and low-quality.
The areas impacted by this project are located on: Kentucky Route 333 from Hwy 60 to Bewleyville; a loop of Hwy 2202 and Hwy 2781 south of Irvington; Guston-Bewleyville Road; Mark's Ridge Road; Dents Bridge Road; and Sienna Circle.
The city of Irvington received $443,000 to extend a four-inch waterline approximately 8,400 linear feet along Lon Dowell Road and Willis Jones Road. The project will provide water service to approximately 28 unserved households.
Breckinridge County received $250,000 in Kentucky Transportation Cabinet funding for resurfacing a total of 8.79 miles along portions of Old Railroad, Dents Bridge, Old Kirk-Axtel, and Tules Creek Roads.
The funding comes from the federal American Rescue Plan Act and is administered by the Kentucky Infrastructure Authority.
(Photo courtesy of WDRB.com)
By Ken Howlett, News Director
Contact Ken at ken@k105.com