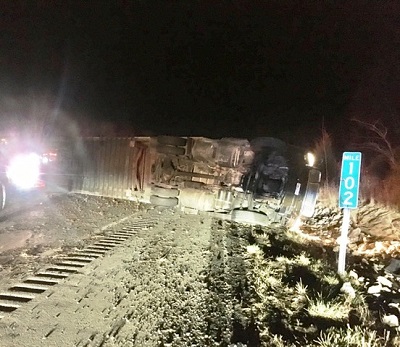 A tandem tractor-trailer overturned on the Western Kentucky Parkway between Leitchfield and Caneyville, injuring the driver and blocking the eastbound lanes.
Monday night at approximately 10:00, Grayson County Deputies Erik Franklin and Caleb Owens, Leitchfield Fire Department and EMS responded to the 102-mile marker of the parkway and found a semi truck with double trailers had overturned, blocking both eastbound lanes.
The driver was transported by EMS to Owensboro Health Twin Lakes Medical Center with non-life threatening injuries.
Based on marks at the scene, the TForce Freight semi — formerly Overnight Transportation and UPS Freight – carrying various non-hazardous items, partially left the roadway and entered the median. The tractor-trailer traveled about 600 feet either completely or partially in the median before overturning.
It's unclear why the vehicle left the roadway.
Only one lane of the westbound parkway was open to traffic while first responders and tow service employees worked the scene. The eastbound parkway was closed at the crash site until approximately 12:20 a.m. Tuesday, at which time one lane was reopened. Both lanes of the east and westbound parkway were cleared for normal traffic flow at 12:59 a.m.
Grayson County Deputy Wally Ritter assisted at the scene until he responded to another call.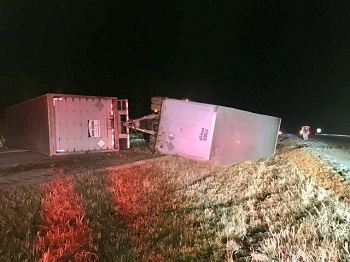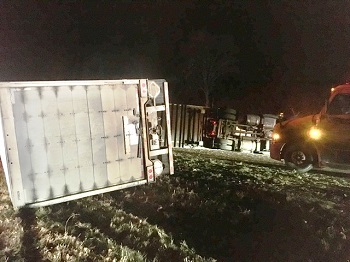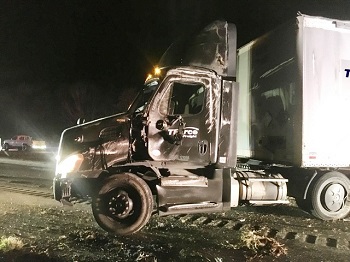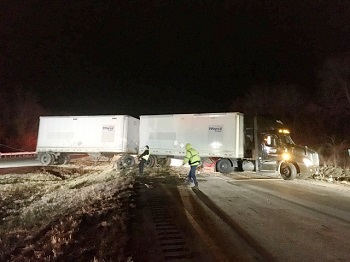 By Ken Howlett, News Director
Contact Ken at ken@k105.com