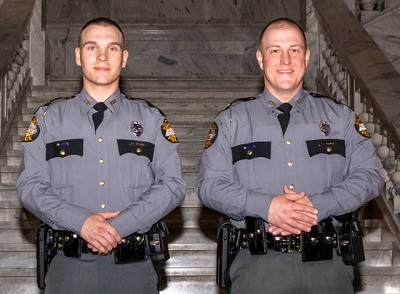 Two newly minted state troopers are joining Kentucky State Police Post 4 in Elizabethtown.
Kentucky State Police announced that 38 cadets have graduated the agency's basic training academy and are now ready to report for duty across the commonwealth.
Joining the Post 4 roster are Samuel Bogner, of Shelbyville, and Chase Shouse, of Berea. Shouse earned an associate's degree at the training academy.
KSP Post 4 Captain Jeremy Smith is eager to welcome new troopers to Elizabethtown.
"I am excited for the arrival of Trooper Samuel Bogner and Trooper Chase Shouse to the Kentucky State Police Post in Elizabethtown," Smith said. "Their presence at Post will provide a much-needed boost in manpower and will allow us to better serve the communities in our Post area. I applaud their commitment and hard work during the KSP training academy, and look forward to seeing their commitment continue through public safety and community service at KSP Post 4."
"Cadets reported to the KSP training academy on June 5, 2022, to embark upon 24 weeks of intense training to learn the job skills necessary to perform the duties of a state trooper. Graduating cadets pledged to uphold the mission of KSP by promoting public safety through service, integrity and professionalism using partnerships to prevent, reduce and deter crime and the fear of crime, enhance highway safety through education and enforcement, safeguard property and protect individual rights," KSP said in a news release.
KSP's recruitment branch is currently accepting applications for the upcoming cadet class 103, which is slated to begin February 26, 2023. The deadline to apply is by close of business November 25.
For more information about career opportunities with KSP visit the website.
(Photo l-r: Trooper Chase Shouse, Trooper Samuel Bogner)
By Ken Howlett, News Director
Contact Ken at ken@k105.com