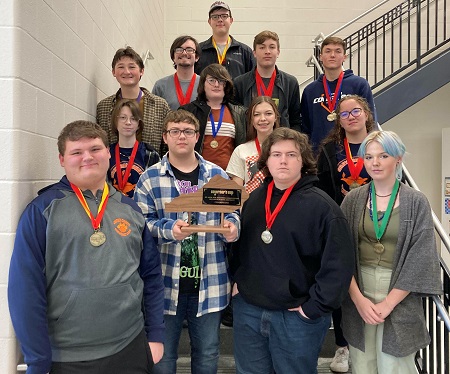 The Grayson County High School Academic Team recently won the KAAC District 12 Governor's Cup competition.
The win qualifies the Academic Team to participate at regional competition on February 18.
Both the Quick Recall and Future Problem Solving teams took second place in their respective events, as every student who took a content assessment placed, leading to the team's region win.
Individual assessment placement in Math included Nolan Rister coming in first place, with Gabriel Secora taking fourth place and Koby Henderson coming in fifth.
Taking the top three spots in Social Studies were first place finisher Landon Shiarella, with Willie Keiran placing second and Coleman Bryant coming in third.
In Arts and Humanities competition, Norea Watson came in second place, while Carter McCray and Ayden Coon came in fourth place.
Science honors went to second place finisher Eldon Williams, with Koby Henderson coming in third and Grace Matthews fifth.
In Language Arts, Michenna Meredith took second place place, Sierra Secora came in third and Norea Watson came in fourth place.
Written Composition competition saw Lainie Anderson win first place and Sierra Secora second.
In addition to the team win, all individual assessment winners plus members of the Quick Recall and Future Problem Solving teams qualified for region competition.
The GCHS Academic Team head coaches are Priscilla Gordeuk, Erina Duvall and Adam Spinks. Kelly Justis serves as assistant coach.
(Photo, not all team members present: Bottom l – r: Koby Henderson, Eldon Williams, Grace Matthews; Row 2: Garon Johnson; Row 3 Norea Watson, Michenna Meredith, Sierra Secora; Row 4: Ayden Coon, Nolan Rister; Row 5: Willie Keiran, Gabriel Secora, Landon Shiarella; Top: Carter McRay, courtesy of GC Schools)
By Ken Howlett, News Director
Contact Ken at ken@k105.com