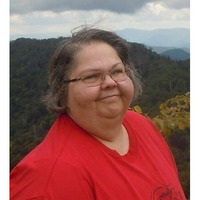 Kathy Lavern (Hatfield) Lasley, age 60, of Clarkson, KY, went to sleep in God's hands surrounded by her family on Thursday, February 2, 2023. She was born on December 18, 1962 in Jefferson County, KY, the daughter of Alvie and the late Dorlis Ward Hatfield.
Kathy was born again at Bloomington General Baptist Church at age 11. She married Damon, R. Lasley, Jr. on May 8,
1981. She was a loving, supportive pastor's wife for 41 years.
She was the loving mother of Damon Lasley III (Brittany) and Craig Lasley; and the proud mamaw of Craig Jr.
Kathy was a member of Antioch General Baptist Church, which she loved and faithfully attended. She loved the Lord with all her heart. She loved her family, all animals (especially her dog, Duke Lasley) and the Smokey Mountains. She worked as a babysitter in earlier years, bringing the children along when she and her husband attended church. The children she sat with were treated as her own in hopes that a seed was sown. The last few years she lived with her husband on their farm in Peonia, and was a member of TOPS.
She was preceded in death by her mother, grandparents, Robert and Roenna Ward, and Buddy and Tula Mae Hatfield; as well as many aunts and uncles.
She is survived by her husband, 2 sons, 1 grandson, her father and a sister, Delana.
Funeral services will be at 11:00 a.m. Wednesday, (February 8, 2023) at the Antioch General Baptist on HWY 88. Bro. Damon Lasley III and Bro. Wayne Napier will be officiating. Burial will be in the church Cemetery.
Visitation will be at the Dermitt Funeral Home from 10:00 a.m. to 8:00 p.m. on Tuesday and at the Antioch General Baptist Church on Wednesday from 9:00 a.m. until time of services.
Online condolences can be made in the guestbook on our website at www.dermittfuneralhome.com .