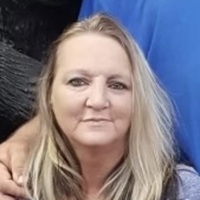 Sherry Lynn Nall, age 58, of Millwood, KY, passed away Sunday, (February 05, 2023) at Norton Hospital in Louisville, KY.
She was born on March 23, 1964 in Norfolk, VA, the daughter of the late Robert and Charlotte Logsdon Greene.
She was a homemaker who loved Christmas and enjoyed cooking, watching Netflix, riding her bike and spending time with her grandchildren.
She is survived by her children, Joseph Collier (Brittany) of Big Clifty, KY, Jennie Rouark (John) of Leitchfield, KY, Jessica Fedor and Derrick Hooper, both of Ohio, Markest Collier of Elizabethtown, KY; Jamie Fox, whom she shared a life and love with for 29 years; a step-son, Lee Fox of Indiana; 18 grandchildren, two great-grandchildren, and a sister, Delores Maddox of Louisville. Several nieces, nephews and special cousins also survive.
Other than her parents, she was preceded in death by a sister, Robin Jones; and a special nephew, Brian McGill.
Funeral services will be at 2:00 p.m. Thursday, (February 9, 2023) at the Dermitt Funeral Home in Leitchfield. In keeping with her wishes, cremation will follow.
Visitation will be at the Dermitt Funeral Home from 10:00 a.m. Thursday until time of services.
Expressions of sympathy may take the form of donations to the Dermitt Funeral Home to assist with final expenses.