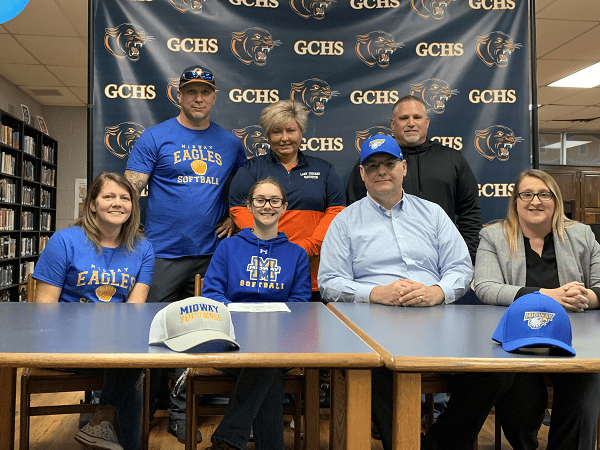 Shelby Davis has always wanted to play college softball.
Last month, that dream became a reality following her signing to play at Midway University.
Grayson County recognized her officially on Monday in a ceremony at the school library.
At first, the event was not something that Davis wanted to have as she signed her official letter of intent at an earlier date. GCHS head coach Penny Reece wanted to make sure that her accomplishment was recognized and convinced her that the more formal signing was still a good idea.
"I told her this is her day," Reece said. "This is her time for all of the hard work that she has put in and her dedication to softball. I said you're having this signing today."
Coaches at any level aren't supposed to play favorites, and Reece, who has won multiple state titles has seen that firsthand. Instead, it is specific qualities that players have that are dreamed of by any coach.
"I always tell people that coaches are never supposed to have favorites and we don't," she said "We do have what we call favorite players and it is very easy to say that Shelby Davis falls in that category, because of the dedication that she puts in. I call her coachable. You never have to say put in some extra time."
Reece will be beginning her second season as the head coach in Leitchfield next month. When she arrived, she was the fourth different head coach since 2017 and the third in as many years.
"When I came here a year ago, my first thought was you wonder how you're going to gel with the players which ones are going to buy into your new system of hard work and changing the culture here," she said. "I feel like Shelby did that immediately, but she's the kind of kid that gave you the impression that she wanted to be coached and pushed."
Along with Reece, the ceremony was attended by Davis' family, former coaches, friends, and teammates. The big crowd clearly meant a lot to the senior standout.
"It means everything," Davis told K105. "I mean having my teammates here, my parents here, my best friend here, my coaches, it means a lot that everyone was here to support me."
The decision on where to attend college varies for each student. For some, it is focused on location, others might be a specific degree, but the one constant is the attempt to feel at home on campus. Midway was the epitome of that for Davis.
"I feel like (the coaches and I) just connected," she said. "It's not a big school but I felt at home there. I love the coaches. I just felt safe there and it felt like home."
Along with playing softball in college. Another dream of hers has been to become a veterinarian. Her dad, Jason, realized that both dreams could be fulfilled at Midway just by stepping foot on campus.
"She really liked the small environment," he said. "She fell in love with it. She's always wanted to be a veterinarian, so when we walked out onto that campus and the first thing you see is a bunch of horses on a horse farm, so I think that's key.  It's small enough so she can't get lost. She enjoys that with the small class sizes. It's more up her alley."
Shelby Davis specifically mentioned that she wouldn't have achieved this dream without the help of her parents and the dedication that they have shown as well.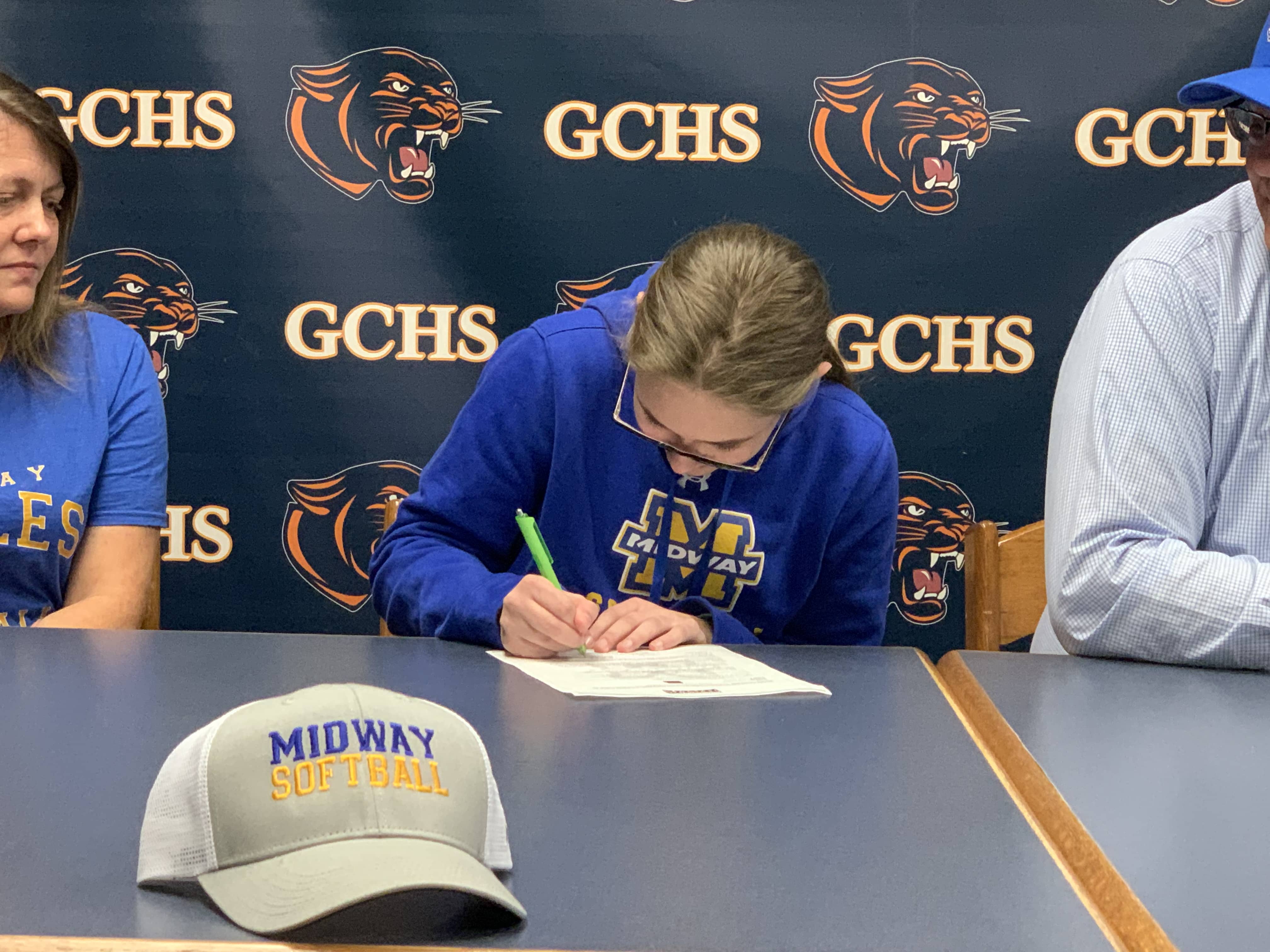 "It's taken a lot of time and dedication," she said. "They have driven me places like Florida or Alabama to play. It just means a lot that they have taken this time in my life to support me and do what I needed to do to excel in the sport that I love."
While she was thankful for her parents, her step-dad JR Rak said it was them that were the most thrilled about what is to come.
"She's worked her butt off and this is what she wants," Rak said. "I think all of us would agree that we are ecstatic about it. She's walking into a good program. The coach, even though she only has a year under her, is really going to help her progress."
College helps every student grow as a young adult since for many, it is their first time truly living on their own. For parents, this part can be nerve-wracking but is also a key to the next step in life.
"She's going to have to be forced to get out of that comfort zone and grow as a young adult and that's a key to this whole thing is she's no longer going to be a high school student," Jason Davis said. "She's got to grow and grow up a little bit."
Shelby Davis and the Lady Cougars started official practice on Monday. They have home scrimmages scheduled on March 7 and March 11 before opening the new year on March 14 against Bullitt East.
While her college decision has been finalized, Davis still has high hopes for what will be her last season wearing the GCHS orange and blue.
"I want to improve my batting some," she said. "I definitely want to talk more which I know I haven't over the past few years. I want to still be there for all of my teammates and support them no matter what. I just want to have a good final season before I go off to college."
While she wants to improve, Davis still had impressive numbers last season as she hit .434 with three home runs, 13 doubles, and 39 RBIs; all of which led the team.
Reece is hoping that the signing is the first of many over the coming years.
"I am spoiled from my days at Greenwood of winning and getting to do things like this," Reece told the team during a short speech. "For our program (it's big), I hope this is something we get to do more of down the road and see you achieve those dreams of getting to play at the next level."
Midway University is an NAIA school located between Frankfort and Lexington. Last season, they finished with a 30-16 record which was their most wins in a season since 2006.
The Eagles are coached by Krystal Cammuse who played college softball at St. Catharine College. She will enter her second season leading the program this year with also prior experience coaching for Centre College.
Davis is the daughter of Kristie and JR Rak and Jason and Candace Davis.
By: Sam Gormley, Play-By-Play Announcer/Local Sports
Reach Sam at sam@k105.com