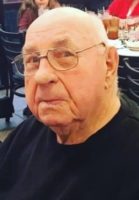 Louie Bazil Hart, age 94, of Big Clifty, passed away, Tuesday, March 7, 2023, at the University of Louisville Hospital. 
He was born March 26, 1928, in Grayson County, to the late Arnold and Stella Johnson Hart. He was a retired printer for the Tampa Florida Tribune, a member of New Hope Church of Christ, an avid UK fan and loved to fish and hunt. 
In addition to his parents, he was preceded in death by his wife, Allene Hatfield Hart; a sister, Kathryn Richardson and two brothers, Harold and Ed Hart. 
Louie is survived by a daughter, Sandy (Bill) Camp; five sons, Danny (Jackie) Hart, Kevin (Susan) Hart, Keith Hart, Ryne (Cheryl) Hart and Kerry Hart; a sister, Madge Hart; a brother, Gerald (Nelda) Hart; thirteen grandchildren and twenty-two great-grandchildren. 
Funeral services will be held at 11 AM (CST), Saturday, March 11, 2023, at Rogers Funeral Home in Clarkson. Burial will follow in the Antioch Christian Church Cemetery.  
Visitation will be after 3 to 8 PM (CST), Friday and after 9 AM (CST), Saturday at the funeral home.