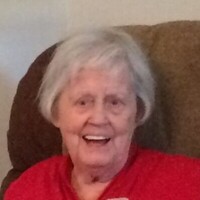 Margaret Ann Stevenson Langdon, age 84, of Leitchfield, KY, passed away Wednesday, (March 8, 2023) at Grayson Nursing and Rehabilitation. She was born on October 18, 1938 in Leitchfield, the daughter of the late Elmon and Stella Poteet Stevenson.
She was a mother and a Granny who loved her children and grandchildren with all her heart. For many years she was a babysitter to several different children and each and every one of them were special to her. She was a member of Claggett United Baptist Church.
She is survived by one daughter, Rita Wilson (Lance) of Leitchfield; one son, Russell Langdon (Annette) of Leitchfield; five grandchildren, Tia Watson (James) of Elizabethtown, Robert Wilson (Meghen) of Henderson, Laura Kiper (Bryan) of Leitchfield, and Brandy Heaverin (Ray) of Leitchfield; six great-grandchildren, Miles Wilson, Reese, Leo and Myles Kiper, Emily and Isaiah Cooley; one sister, Nola Decker of Brooks, KY; two brothers Ralph Stevenson and Donnie Stevenson
Sr. Several nieces and nephews also survive.
Other than her parents, she was preceded in death by her loving husband of 61 years, Roger Lee Langdon; one son, Ronald Langdon; and one brother Charles Stevenson.
services will be at 11:00 a.m. Saturday, (March 11, 2023) at the Dermitt Funeral Home in Leitchfield. Bro. Garry Watkins will be officiating. Burial will be in the Claggett Church Cemetery.
Visitation will be at the Dermitt Funeral Home from 4:00 p.m. to 8:00 p.m. on Friday and from 9:00 a.m. Saturday until time of services.
Online condolences can be made in the guestbook on our website at www.dermittfuneralhome.com .