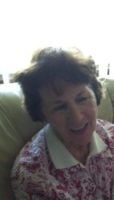 Doris June Dennis Decker, age 85 of Leitchfield, passed away Wednesday, March 22, 2023 at Grayson Nursing and Rehab in Leitchfield. She was born on January 16, 1938 in Cub Run, Kentucky the daughter of the late Ernest and Opal Miles Dennis.
Doris taught for the Grayson County School Board for over thirty years. She enjoyed watching her grandson play sports, watching soap operas, game shows and taking boat rides. She also enjoyed singing. She was a member of Oak Grove Missionary Baptist Church.
Left to honor Doris' memory are, her daughter, Sherry Irene Stoots Shields (Ronald); one grandson, Wesley Claycomb (Marnie); two great-grandsons, Dashiel and Lincoln Claycomb; six siblings, Russell Dennis (Patricia), Mary Ann Dennis Morgan, Ronnie Dennis (Kim), Betty Jean Dennis Futch Proctor (Rudy), Bonnie Lou Dennis Meredith (Daryl) and Diana Dennis Duke (Keith).
Aside from her parents, she was preceded in death by her husband, William H. Decker; and two brothers, Eugene and Jack Dennis.
Funeral services will be held at 2:00 pm on Sunday, March 26, 2023 at Bethel Missionary Baptist Church in Clarkson with Bro. Joe Cain officiating. Burial will be in Roseburg Cemetery.
Visitation will be held from 3:00 pm until 8:00 pm on Saturday at Leitchfield Memorial Chapel in Leitchfield and again from 10:00 am until service time on Sunday at the church.
Expressions of sympathy may take the form of donation to the American Cancer Society, St. Jude or any cancer organization of your choice.
Leitchfield Memorial Chapel is both honored and privileged to be entrusted with the care of Ms. Decker.
Share your messages of condolence with the family of Doris June Dennis Decker and sign her virtual guestbook by visiting 
www.leitchfieldmemorial.com
.